Podcast: Play in new window | Download
Subscribe: Apple Podcasts | Google Podcasts | Stitcher | RSS
FEATURE INTERVIEWS:
SEMA SHOW SPECIAL 2021 – Episode #1:
The SEMA Show is back for 2021 and I decided to send two guests hosts out to Vegas for a week to get  interviews. This decision has resulted in some interesting and diverse guests quizzed by these two "wanna be" podcast stars. As a reset, this will be the first of several podcasts we'll release through December featuring great interviews from SEMA.
Our two interviewers were Kirk Hansen and Scott Stap. You know Kirk Hansen as a long time show friend and supporter, as well as Scott Stap show writer from previous shows. These two hit the booths at SEMA and met up with old friends of the show as well as some great new companies to talk to. Armed with a mic and a camera they brought back content just for you from the wilds of Las Vegas!
Clay Millican Drag Racing: We caught Clay snooping around the RedLine Oil booth just before Mike Copeland had his massive reveal. Clay is a Mopar collector and has partnered with Mike for many of his engines used for his builds. It's a partnership built by respect to one another! Clay still stands as the winningest Top Fuel driver of all time in IHRA with 52 National Event wins. Clay discusses with us how illness may have affected his chance this year to grab a NHRA title BUT you can sense the excitement he has towards next year's potential of capturing that top spot. Clay also discusses the loss of his son Dalton, he was a successful professional racer in his own right, winning a National Championship in ATV racing, and later piloting the FELD Blue Thunder Monster Truck, competing in the 'More Monster Jam Tour', where he finished fourth in points for the season in 2015, his first year. Tragically though, he lost Dalton in a motorcycle accident in August of that year, at the age of 22. One of Dalton's favorite sayings was "Stomp on that loud pedal" referring, of course, to the accelerator and the massive 'open header' noise his supercharged Monster Truck would make when he'd push it to the floor. When Clay lost Dalton, that catch phrase became his saying as well in honor of Dalton. Dalton's memory lives on through that saying in T-Shirts, bumper stickers, on the race car, as well as every time Clay utters it in interviews, and on social media. 'Stomp on that Loud Pedal' is known throughout the racing community and has become synonymous with Clay's favorite thing to do, which is to make noise with his Top Fuel car at every opportunity, but in truth it is all done in honor of the memory of Dalton Millican.
Mike Copeland, Diversified Creations: There was so much anticipation for the reveal Mike Copeland had in store and this year's SEMA 2021. As time drew near the camera crews gathered and the crowd circled around the Redline Oil booth. Mike revealed a beautiful 1948 Chevy Truck named "Zero". The truck was as impressive as you would expect to see at SEMA. The perfect paint, outstanding interior, the lowered street rod stance all accomplished by Diversified Creations. However this crowd didn't just gather for an impressive truck, this truck is powered with an alternative fuel. Hydrogen is what powers the truck name Zero! It's not hydrogen feeding an electric motor as you have seen the OE's do but instead an internal combustion powered engine running only on hydrogen. This is a modified LS based 6.2L engine with Magnuson supercharger. Mike's team at Arrington Performance have partnered with Boosch to create this one of a kind technically. Mike's goal is to apply this technology to any combustion engine, from street cars to chainsaws. He believes the science they have created can truly change the world! In a world that is looking to alternative fuels this technology would allow us to keep our favorite muscle car a V8 and still be saving our environment!
Alin Dragoiu and Bill Martens, Chevrolet Performance: Every year Chevrolet Performance comes out with great new products and raises the bar another notch. Alin Dragoiu, Design Release Engineer for Chevrolet Performance Parts, talked to me about the design and build of the new  ZZ632 1000 horse power crate engine. This engine utilizes proven block and head designs with break through new technology and electronics to produce 1K hp on 93 octane fuel. I also asked former show guest Bill Martens (TMCP 264) to not only give his thoughts on the new power plant, but a general update on everything Chevrolet Performance. The answer was a LOT. New transmissions, an electric '57 Chevy (Project X), and two vehicles in partnership with Hoonigan. Not even 50 feet away was a third Gen Camaro with the very first ZZ632 in it, built by the Hoonigan crew.
Mike Pennington, Meguiars: Mike is a previous show guest (TMCP 411) but is always a bundle of energy and ready to talk product. He works in the solutions hub at Meguiars and makes sure that customers get the right product for the job they are doing. SEMA has always been huge for founder Barry Meguiar going back decades when he brought a folding table and set up a simple booth of products. This year they are in an outdoor and an indoor booth at the show, getting out the word of car care products. I did pick Mikes brain on some of the products including clay bar and "ceramic" products.
Thanks SEMA for putting up with these two in 2021!
-Rob Kibbe
========================================
Kibbe's New Invention: The Magic Tee
And now for something completely different. Rob and his buddies spent the last ten years creating, designing, testing, investing, patenting, and everything else it takes to bring a new product to market. It's called The Magic Tee….and it's for baseball and softball training. Seriously. It has nothing to do with cars at all….but the process of bringing a product (and business) to market is something we all need to know about. The full story is in this episode….and by all means, visit www.magictee.io and buy one for everyone you know!            
========================================
This interview sponsored by our pals at National Parts Depot – your premier source for muscle car restoration parts!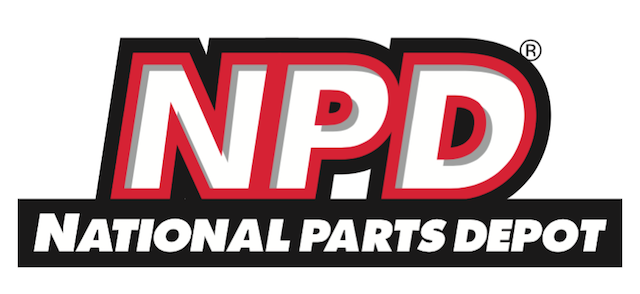 ======================================================
Presented with Ron Francis Wiring!
We're proud to say that the Pro-Touring segment is sponsored by the fantastic muscle car and hot rod wiring supply company, Ron Francis Wiring! Contact them today for their latest catalog and be sure the review their new website for all of your wiring and electrical needs!