Podcast: Play in new window | Download
Subscribe: Google Podcasts | RSS
Subscribe in iTunes 

Listen on your Smart Phone in Stitcher!
======================================================
FEATURE INTERVIEW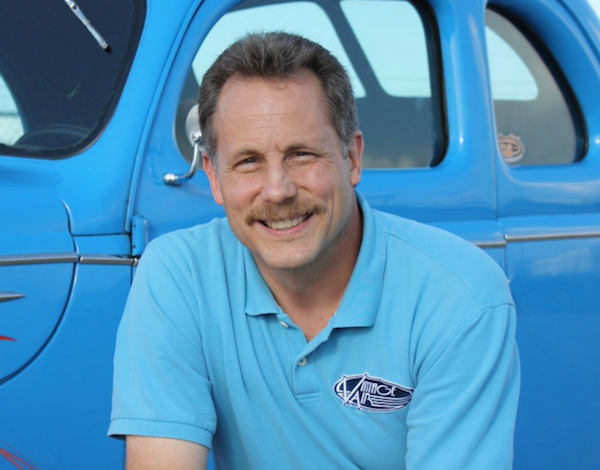 This week's podcast show guest is Rick Love, Executive Vice President of Vintage Air. Vintage Air is the true "granddaddy" of all of the aftermarket heat and air companies and they started out in the '70's making kits for traditional hot rods. As time marched forward (and the concept of a "comfortable" hot rod caught on) they added on a Tri-5 Chevy lineup, and then moved onto the muscle car segment. While there may have been a time when "real" muscle car guys yanked out A/C systems to save weight and horsepower, today there's no need – the systems are now extremely light and require next to nothing to operate!
What's nice about a Vintage Air kit is that it's designed for each car uniquely and can quite literally be installed into most cars over the course of a weekend. They have applications for the majority of the popular GM, Ford, and Mopar muscle cars, and the kits can be tailored based upon whether the car they're intended for originally had factory air conditioning (which would use the factory dash vents and controls) or whether it would be a complete add-on (they have nice under-dash events for each car for just that scenario).
Their latest system is called the "Gen IV." The controls, valves, and doors are all completely electronic and genuinely give the customer all of the benefits and ease-of of modern heat and air. This particular unit also carries over a lot of the technology that was developed by Vintage Air when they created the A/C systems for the Ford GT (a cool little fact I learned during the interview).  It's engineered to work with the factory controls if desired by replacing the old cables with electronic units behind the dash, but you can opt for modern knobs or digital output controls as well.
At the end of our talk Rick and I discussed the Vintage Air Frontrunner system. For people that would like all of the benefits of a modern serpentine belt on the front of their engine (even if they're running an LS engine), the Frontrunner is a pretty slick option to have. Rick went into detail on how the system is designed, which engines they have it available for, and which accessories it comes with (and why).
As a side note, I did order a Gen IV Vintage Air kit for my Chevelle, and will have a few pictures of it's installation coming up when the car starts to go together!
Thanks for the interview, Rick!
-Robert Kibbe
The MuscleCar Place Network of Awesome Automotive Podcasts
======================================================
Steele Rubber's Mustang Update!
In this episode our show sponsor Steele Rubber brings you the Mustang Update. As you'll learn in the show, a buddy and I have decided to try our hand a flipping a clean little green '66 Mustang coupe (look for pictures in an upcoming blog).
During this episode of the show I discussed my thoughts about whether or not to replace the original headliner in this car or not. Since doing so on a Mustang requires pulling the glass out I was a little skeptical of doing it…..but then my pal Kirk Hansen at National Parts Depot taught me a little trick. Unlike the GM's I most familiar with, on the Mustang the glass is not glued in! It's simply help in place with the windshield trim and it lays again the window rubber! Since that's the case, maybe we really will tackle this task, doing it ourselves to save the money (and profit)!
This car will be a fun experience for me, and I'll catalog the entire process in the blog and podcast show, whether we make money or crash and burn!

======================================================
WIN $750 FROM CPG!
The Prize Segment sponsored by the COMP Performance Group is back, and it's back BIG!  Entrants can enter to win a HUGE $750 gift certificate that will be awarded quarterly, and there are two ways to enter:
Go to www.themusclecarplace.com/contest and fill out the details there to enter the contest. Be sure to use the links in the contest to share it on Facebook, Twitter, and your own websites. For everyone that joins the contest because of your referral, YOU GET MORE ENTRIES!
Answer the bonus question given out in this podcast show. E-mail your answer to bonus@themusclecarplace.com for an additional 20 points!
The next winner will be chosen on September 15, 2012!