Podcast: Play in new window | Download
Subscribe: Google Podcasts | RSS
======================================================
FEATURE INTERVIEW:
Mark Racop
Fiberglass Freaks – Recreating the 1966 Batmobile!
This weeks interview is with Mark Racop, founder and owner of Fiberglass Freaks, the exclusive (and officially licensed) builders of perhaps the most famous of all Batmobiles ever: the 1966 George Barris Batmobile for the old Adam West TV show! That's right, if you would like your very own screen accurate 1966 Batmobile they can make you one to order – with all the Bat Gadgets too!
At a young age Mark was fascinated by the Batmobile and knew he had to have one of his own someday. This was no passing fancy or little boys dream, it was a definite passion. During high school Mark and his friends decided to create a fan fiction Batman episode and of course they had to have the ultimate prop to do it with. Using very limited resources and a 1974 Monte Carlo the boys built from scratch the car now known as Bat-One. That was all it took – Mark had the bug of building Batmobiles. Little did he know if would become his business!
A few years later Warner Brothers released the Batman TV series into syndication and Marks dad recorded all 160 episodes for him on VHS tape. Mark spent many many hours watching, pausing, and replaying the tapes for clues on how the vehicle was built. He also attended car shows and other events to get in person photos of the "real deal" cars to use as reference points as well.
Marks driving goal of creating an accurate Batmobile led him to some interesting purchases, including a 100% accurate mold of the Lincoln Futura concept car, the original car of which was converted into the Batmobile itself by George Barris. He used this mold and some creative use of original vehicle images along with an overhead projector to modify the buck. It resulted in being able to very accurately produce what DC Comics considers the best Batmobile recreation on the market!
Today Fiberglass Freaks produces a few different versions on the Batmobile to different customer specs. They feature a full custom built chassis with rack and pinion steering, Air Ride, and (if you want) even an LS3 engine. They feature provisions to raise the hood with a switch while in parades, fully functional dash rolling desk compartments (5 of them), and even a Batscope. The top line version runs $250,000 and takes a couple of years to build. They have produced nearly 30 cars to day and have over 100 customers on a wait list as well!
Over the years Mark has learned many things about chasing his dream and about running a business. You can find him behind a podium encouraging the next generation of dreamers to help them find happiness in doing what they love just as he has done. Recently he was able to pull together a Bat-Con event that featured the original Bat Copter and a Bat Cycle. Many fans showed up as well as many celebrities from the comic book world. One really amazing job the Fiberglass Freaks has lined up is the recreation of the Lincoln Futura that the Batmobile was based on. This build is for ventriloquist Jeff Dunham, a well known collector car aficionado. Another vehicle Jeff is known for already owning is the Batmobile from Batman Returns. You can find pictures of the Futura build on the Fiberglass Freaks Facebook page.
If you would like to know more about licensed reproduction Batmobiles you can check them out at FiberglassFreaks.com or follow the team at Facebook.com/FiberglassFreaks. Thanks, Mark! I am looking forward to our next interview.
-Rob Kibbe
======================================================
This interview sponsored by our pals at National Parts Depot –
your premier source for muscle car restoration parts!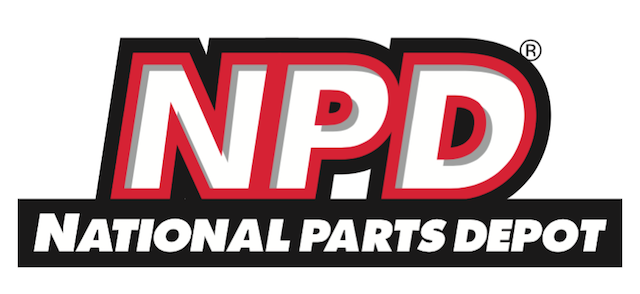 ======================================================
The Pro-Touring.com Update
with Larry Callahan!
SEMA Show Pro-Touring.com Dinner Update: Larry told me that there are tickets  left for the 2018 SEMA Show Dinner. You better get them now as they will sell out soon. Check it out at Pro-Touring.com. Get there and meet your favorite Pro-Touring.com members.
MotiV8tr Update: MotiV8tr has been dropped off at JCG Restoration and Customs for some final work and will soon be running just in time for the holidays. Once he gets it back Larry will do some wiring on it and finishing touches. While the Camaro is getting love at JCG Larry will focus on the Bel Air and install an Iq3 street dash along with the carbon fiber dash insert and other electronic goodies. Larry will definitely earn the moniker "The Bel Air Guy" from his neighbors when it is done.
Pro-Touring Update: The software used for viewing the forums on mobile devices is being updated to Tapatalk. Larry says it works pretty good and actually prefers it to viewing the forums in a web browser. You can get it on the Google Play store for FREE.
OPTIMA'S Search for the Ultimate Street Car : The 2018 OUSCI Point champion has been announced and it is Mike DuSold with his 1967 Camaro.  We look forward to seeing him at the SEMA events this year.
Pro Touring Autocross Event Coverage: Larry had the full list of finishers at the NMCA West Hotchkis Autocross series. In the Classic Muscle Car class, Mike Cuthbertson was runner up in a first gen Camaro and Greg Thurmond in his Orange Corvette was the winner. Brandi Phillips was runner up in the truck class in the C10R and was the fastest female over all at the event. Richard Trujillo was the winner of the truck class in his 1965 Ranchero.
As always Autocross and Pro-Touring events are featured at Pro-Touring.com
We're proud to say that this segment is sponsored by the fantastic muscle car and hot rod wiring supply company, Ron Francis Wiring, and we're very appreciative that they are our show sponsor!
Thanks, Ron Francis!