Podcast: Play in new window | Download
Subscribe: Google Podcasts | RSS
======================================================
FEATURE INTERVIEW:
Jon Chase
What is a Hoonigan?
Today's guest is Jon Chase, Brand Manager and Art Director at Hoonigan since 2014. Back in 2012 I met Jon at SEMA and we had him on TMCP #159. At that time he was with Maisto designing amazing car models. From there he went on to run his own clothing brand company called DSTROYR. That process led to an introduction to Hoonigan where he decided to head full time, which allowed him to do all of the fun stuff he enjoyed with DSTROYR, with more time for family, fun, and to pardon the pun, Hooning. In this episode we got to the bottom if what Hoonigan actually is ( a brand lifestyle, media creation, an apparel company) and detailed all of the ins and outs that go with it.
To explain a little further, Hoonigan starts with the amazing Ken Block videos..but has no real ending. It's an "all things fun" automotive lifestyle brand that is open to getting a logo on anything that supports said lifestyle, very much akin to the DC shoes line (which is Ken's former company). You can find "Hoonigan" on clothing and decals, special car parts, and even on Wiseco Pistons.
The videos from Hoonigan Garage and the Ken Block Gymkhana series have boosted the brand to almost universal recognition and puts a huge stamp of approval to building cars just to drive and no rules of what to build. Jon said it is antics in cars at any level from Ken Block's works of art race cars drifting around complete cites to $500 beater cars doing cool stuff on a dock. At this time the gang is putting out thirty pieces of video per week and is catching more attention daily.
For those who are fans of Mike Finnegan, Finnegan's Garage, and (of course) the Kibbe and Finnegan Show, you're aware that Jon called out Mike to race their mutually cool – yet totally different – '55 Chevy gassers. While both were somewhat inspired by the love of the movie Two Lane Blacktop, that's where the similarities end.
Jon's '55 belonged to a lady who's husband had passed away and this car just sat unfinished. Jon promised her that he would reassemble it, drive it, and enjoy it just like her husband would have wanted to do. When he hooked up with Hoonigan he was asked to hit the road on the Hot Rod Power tour and he took the shoebox Chevy and went. He said one of the highlights was being noticed by Vic Edlebrock and getting the thumbs up to what he thought was a not so polished and refined example of a car. With that said, for Job the speed is just and sun as the looks and Vic's approval meant the world to him. He'll be dropping in an LS to his '55 soon prior to racing Mike. You'll have to stay tuned for the fun that follows!
You can get more information at the website Hoonigan.com  or on almost any social media page. You can find a Hoonigan Garage episode featuring Jon and his 55 Chevy "TRI 5 By Fire" on You Tube as well as the Mike Finnegan visit to the Hoonigan Garage.  You can follow Jon Chase in Instagram @jchase7452.
Thanks for the great interview Roger!
-Rob Kibbe
======================================================
This interview sponsored by our pals at National Parts Depot –
your premier source for muscle car restoration parts!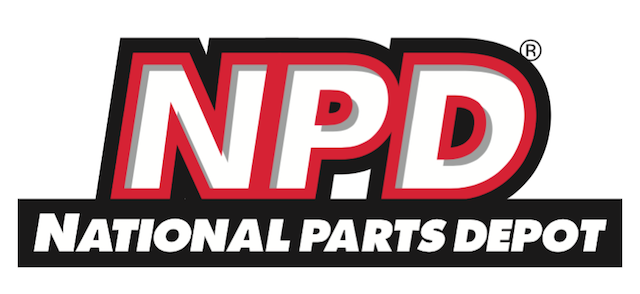 ======================================================
"Ask Rick" with NPD's Rick Schmidt!
Kids and Cars at Car Shows
This month I get to "Ask Rick" about his thoughts on pedal cars and the price of certain restoration parts. This month was also Ricks birthday and the conversation started to be about childhood memories and quickly went to high end one off custom pedal cars. There are a handful of them in the collection and some have left including a 1969 El dorado convertible pedal that was built with all of the details including trim.
I asked Rick a couple random questions from listeners.
Nathan Warren asked about how rare paint color is on the 1970 Ford Ranger Sport Custom in the NPD collection really is. Nathan says he has never seen that color on anything other than the one in the collection, his grandpas, and one other. Rick said that he does not think it is really that rare and is Ford Explorer green. He believes you do not see them much because most people would have changed the original bright green color to something more main stream or updated like a nice blue or red.
The 10 millionth Ford Mustang was recently built in the same trim as the original 1964 Ford Mustang. A listener asked if this was a vehicle Rick would like to own. Of Course! Rick said this made all of the media outlets and is a famous car but does not think he will get the chance. He did mention that he owns the 1978 Ford Fairmont Futura and is the 100 millionth Ford ever produced. He went on to say the Fairmont out sold the Mustang in the first year produced and is the reason why that was the car to hold that prestigious spot in history. Rick's Fairmont restoration tip is to check Green Sales for a ton of Ford New Old Stock parts because there is no restoration market for that body style. This led to a follow up question of the cost of tooling to actually start making parts for older cars. Rick put the price for tooling around $250-$350 thousand dollars per part. It takes many years to recoup this cost especially when you get to one year vehicles and there is very little market to sell to.
Thanks, and happy birthday Rick!