Podcast: Play in new window | Download
Subscribe: Google Podcasts | RSS
=======================================================
This weeks interviews are again, LIVE from the show floor at SEMA 2016.  This second episode is with The Ring Brothers Mike and Jim, Rich Waitas from Magnaflow, and Lance Stander, CEO of Superformance. This was a very fun show to put together!
Interview #1 : Rich Waitas from Magnaflow! Always a great friend of the show, Rich talked to me about new valve controlled exhaust systems to meet the restrictive factory noise regulations (95dB) and still flow for power and efficiency. He said the Magnaflow exhaust not only keeps the valves in place but keeps the factory sensors in place for optimum compatibility.
We also chatthed (quite a bit) about his connections to Hollywood movie and TV cars. It seems that Rich is connected with nearly every big screen hot rod these days, from Fast and Furious to Batman Vs. Superman. In fact, the Batmobile was on display in his booth!
Interview #2 : Lance Stander,Superformance and Hillbank Motor Corp CEO. Lance was able to take a few minutes to tell me about the history of Hillbank and Superformance. The recent passing of the Low Volume Manufacturing act will allow Superformance to produce up to 325 vehicles a year. These will be complete new, emissions compliant vehicles with modern features yet with the design of classic cars from 25 or more years ago.
Interview #3 : The Ring Brothers: Jim and Mike! I caught up with the guys and asked them about the cars they brought to SEMA. Jim said they brought a 65 Mustang Widebody Convertible, a 69 Camaro, and a 1948ish Cadillac. The Cadillac is actually a '48 body melded together with a 2016 ATSV. All of the features of the 2016 car have been preserved (except the brake light) and are fully functional or even updated to newer parts.

I also had a chance to ask them how their first introduction to SEMA happened, and they shared a story of humble beginnings that I had never heard. It all started with a custom Mustang they brought and put outside in the old "Dumpster Alley!"
Stay Tuned, even MORE SEMA fun to come!
-Rob Kibbe
p.s. Please enjoy these additional pictures from SEMA
=======================================================
This interview sponsored by our pals at National Parts Depot –
your premier source for muscle car restoration parts!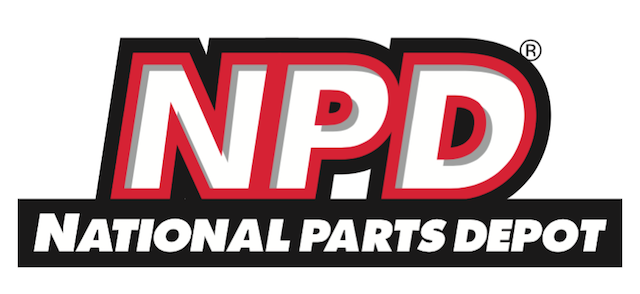 =======================================================
The Pro-Touring.com Update
with Larry Callahan!
Ron Francis Wiring: The Black Box Giveaway is underway!

Check it out at TheMuscleCarPlace.com/BlackBoxgiveaway
Make sure to check your email and your social media posts and your spam folder for updates to make sure you do not miss out. Also keep an eye on the Pro-Touring.com update of the The MuscleCar Place Podcast for other news. You need to get your submissions in now and use every way possible to enter to have the best chance at the last drawing in December!
We're proud to say that this segment is sponsored by the fantastic muscle car and hot rod wiring supply company, Ron Francis Wiring, and we're very appreciative that they are our show sponsor!
Thanks, Ron Francis!