Podcast: Play in new window | Download
Subscribe: Google Podcasts | RSS
=======================================================
This weeks interviews are LIVE from the show floor at SEMA 2016. I was able to catch up once again with old friends of the show and hear about some of the great upcoming and recently released products. This first installment is with Rusty Sampsel of Chevrolet Performance and Scott Bowers of Ron Francis Wiring.
Interview #1 : Chevrolet Performance, Rusty Sampsel discusses latest products including 8 speed automatics for LT1 and LT4 engines. He told me about the ability to add "tap shift" to your vehicle with these new transmission packages. At this time the port fuel engines are still the best sellers, but Rusty has been surprised at how well the new direct injected engines have been selling in spite of being so new and some technological hurdles. The LTG four cylinder engine is also fairly new but Chevrolet Performance has now added a transverse transmission option that opens up possibilities of mid engine and front wheel drive applications. He also told me about his season in the Bad Banana 55 Chevy Gasser….and gave me an official fan club t-shirt!
Interview #2 : Scott Bowers of Ron Francis Wiring talks to Larry Callahan and myself about new products and an update about the Black Box. The 1960 Cadillac "Cruella DeVille" in the Ron Francis booth was a whole other story in itself. Build issues, flat tires, and last minute assembly caused the car to show up very very late and it took a lot of coordination and effort to get it in after the last minute. We also discussed their many new Ford EcoBoost and Crown Vic based products that are both out now and in the works!

Stay Tuned, even MORE SEMA fun to come!
-Rob Kibbe
=======================================================
This interview sponsored by our pals at National Parts Depot –
your premier source for muscle car restoration parts!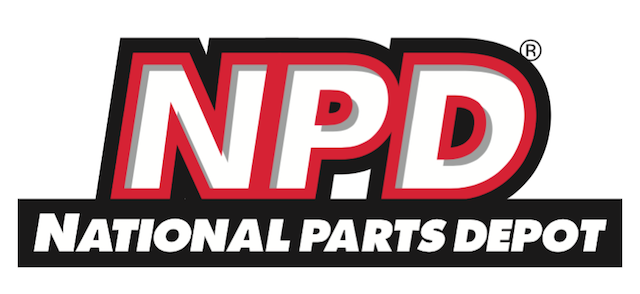 =======================================================
The Pro-Touring.com Update
with Larry Callahan!
Ron Francis Wiring: The Black Box Giveaway is underway!

Check it out at TheMuscleCarPlace.com/BlackBoxgiveaway
Make sure to check your email and your social media posts and your spam folder for updates to make sure you do not miss out. Also keep an eye on the Pro-Touring.com update of the The MuscleCar Place Podcast for other news. You need to get your submissions in now and use every way possible to enter to have the best chance at the last drawing in December!
We're proud to say that this segment is sponsored by the fantastic muscle car and hot rod wiring supply company, Ron Francis Wiring, and we're very appreciative that they are our show sponsor!
Thanks, Ron Francis!