Podcast: Play in new window | Download
Subscribe: Apple Podcasts | Google Podcasts | RSS
FEATURE INTERVIEW:
2023 Holley Moparty Special!
This special bonus episode on The Muscle Car Place is brought to you live from the Holley Moparty 2023 event at the Beach Bend raceway (and amusement park) facility in Bowling Green Kentucky! All of your favorite show hosts and co-hosts loaded up and drove out to the birthplace of new Corvettes and the global headquarters of Holley Performance Products to see the fourth annual gathering of Mopar enthusiasts. Many old and new Dodge, Plymouth, Chrysler, AMC, and Jeep vehicles were there showing off just how unique this crowd can be. We got to show up and interview some of the interesting people there and bring it to you to get an idea of how the whole event went down.
James & Caroline HHWheels YouTube: Directly in front of the Holley booth there was a gathering of sponsored cars that many people looked forward to seeing as they are on YouTube or Instagram and followed by thousands pf fans. Smack dab in the middle of the show was a rusty green Charger with severely dented fenders and accompanied by a girl with a big smile waiting to talk to people about its cool background. Caroline and her dad James host the YouTube channel HHWheels where they bring to life old crusty cars and have a blast with them. At this particular event Caroline snuck the old Green RT/SE Charger called "Fritz" on to the Jeep off road course and did some fancy back road driving around the dirt track. She may not have travelled "as the crow flies" but she definitely got a loud cheer from the Hooptie X challenge participants as she slung the  car around the corners and over the dirt jumps. The car is a rescued 1969 Dodge Charger RT/SE that literally had a tree drop on it. The duo have been having fun with the car ever since they got their hands on it and making friends as the do it. Obviously they are not afraid to get dirty and promote the idea to just get out there and drive old cars instead of waiting to make things perfect. From rusty green Chargers to Baja Bug Beetles they enjoy working on things and having fun. You can Follow Caroline and James at HHWhwheelsPro.com, or check out videos at YouTube.com/HHWheels, and on Instagram.com/HHWheelsPro.
Dylan McCool YouTube: Dylan McCool himself said he looks forward to the annual Muscle Car Place interview tradition at Moparty every year. We have interviewed him every year since the beginning of Moparty and it is great to talk and get caught up every time. This year brought a mid 80's Diplomat cop car that he has been working on in front of thousands of people on his YouTube channel. Watching Dylan go through the process of getting old cars up and running while fixing the things that break as he is fixing other things is always entertaining. It was very "cool"  to see his latest project and watch it go around the autocross track. You could hear the turbo spool up on a car they never thought of putting turbos on and blast across the track sometimes sideways. Not every pass was fast but from the grin on his face you know that every pass was fun. He did a lot of repairs and track side updates including getting parts from the swap meet to keep it from spewing oil all over the engine compartment. When he was building the Blues Brothers clone, Dylan worked with the pros at Holley to make all of the pieces fit together and run like a well oiled machine. He said the Sniper system saved his engine more than once in its boosted condition despite his best efforts. You can check out Dylan McCool on his channel at YouTube.com/@DylanMcCoolVideo.
Richard Petty 1974 Charger Race Car: One of the biggest draws at the event was the freshly cleaned up Richard Petty race car. It attracted our attention and next thing you know Corndog was crawling under the car and looking it over from air splitter to spoiler. The car is being preserved by the International Motorsports Hall of Fame organization and we took some time next to the Holley booth to find out more about this car and others under the care of Eric Perrine.
It was great to see this example of a real race car in an up close and personal environment. If you had a picture of the word race car in the dictionary, THIS would be that picture. People were leaning in and examining all of the cool seventies details and soaking in the Richard Petty vibe this car exudes. Standing next to the brilliant orange and blue piece of history you can imagine the track in front of you, trading paint with other NASCAR favorites like Cale Yarborough and Bobby Allison. Check out the International Motorsports Hall of Fame organization website at https://www.motorsportshalloffame.com/
Thanks Holley for putting on Moparty!
-Rob Kibbe
======================================================
This interview sponsored by our pals at National Parts Depot – your premier source for muscle car restoration parts!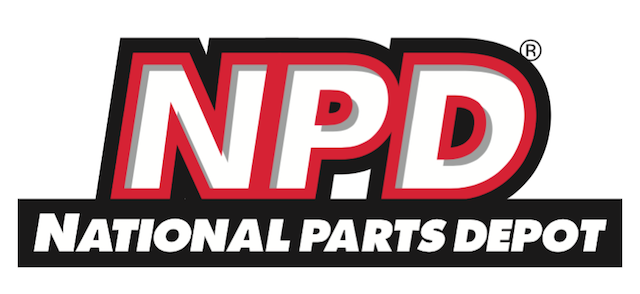 ======================================================