Podcast: Play in new window | Download
Subscribe: Apple Podcasts | Google Podcasts | RSS
FEATURE INTERVIEW:
Mark Racop: Building Dream Cars for Bats!
Throughout the month of January we talk about life goals and how to reach them. For many of us the dream of building cars for a living is just that, a dream, and making a living from building our favorite TV or movie car would be a dream from heaven. Mark Racop has actually made that a reality but in doing so has proven the adage in that that "business is hard, but what else would I do?"
As a kid Mark loved the 1960's era TV show Batman, staring Adam West and Burt Ward. While Batman himself was the main character, for Mark the Batmobile was what stole the show. He grew up thinking of the day he could interact with that car just as Batman did. Around the age of 17 years old, the need to own the Batmobile had not waned and he decided to start building his own replica of the venerable vehicle. Mark did not have a 1955 Lincoln Futura concept car to start with as George Barris originally did, so he started with the next best thing; his 1974 Chevy Monte Carlo.
The results were as you may think and he was not totally satisfied with the end product. He researched and rebuilt parts of the car into a second version but it still was not enough. The *big* moment happened when he found what he needed most to get to the next level: an accurate Futura body replica to use as a mold!
He found and purchased a Futura replica sculpture that he pulled molds off from and started modifying into his own fiberglass Batmobile. He knew he wanted this to be the most accurate version and extensively researched the show and the cars by watching 120 episodes that his father recorded on VHS for him. Word got out and he started getting requests to build other cars and it was then that Fiberglass Freaks was born to make accurate 1966 Batmobiles.
I asked Mark about the licensing for the Batmobile worked and the story how he became the only licensed builder of 1966 Batmobiles is fascinating. The law behind the decisions though is still very confusing and does not seem to be consistent. In the case of Mark's car, the Batmobile is a "character" and is protected under appropriate laws as such. Warner Brothers vetted Mark's company and the cars he was producing and deemed Fiberglass Freaks as the only company worthy of the license. His license allows him to produce the car, call it, and advertise it legally as the Batmobile. Warner Brothers has sued other makers over violating this protection. As an aside, while the Batmobile's situation is clear, for other Hollywood star cases (even as recently as that of the "Eleanor" Mustang) the "character" test doesn't or may not apply. This leaves the question of "can I make another star car and not be sued" as one that's not clearly defined.
With the accurate body figured out, and the pieces and parts designed to be better than show worthy (and the licensing all figured out), Mark should have been good to go to build cars well past retirement. He built many over the years, refined his process, and added to it as he went. He initially utilized Lincoln Town Cars as chassis and drivetrain donors and today uses a fully customer purpose-built chassis with an LS3 drivetrain. His process has increased exponentially for everything else as well. Each and every little doo-dad that makes the Batmobile unique is custom made and perfected (there's not really a parts-store for Batmobile interior parts).
But as he said, "business is hard." Just when you think you have it all figured out, life throws you a curve ball. Sometimes you have customers that fall on bad times and cannot pay for what they said they were going to buy. Fiberglass Freaks has numerous pay points during a car build where they require money from the customer to continue building their car. He had one particular customer that had not paid for many months and Mark considered and decided to not continue the process and bumped up other vehicles in the line. That led to a bizarre and embarrassing public case between himself and a California customer that had some strange connections to local California law official that ended up raiding his shop. Mark was – in the end – completely vindicated thanks to a new reporter who put the pieces together and presented them to the authorities. It didn't save him heartache and money, however.
Mark is possibly considering retirement at some point but he has multiple cars in the works that need to be finished first. He has multiple years left and he said the one thing that is vexing him is how much inventory to buy to build out the remaining vehicles as parts and safety stock. These are mostly one off parts built specifically for the Batmobile and are not off the shelf. He did say he is putting together a Batmobile museum with of course the 1966 as the cornerstone vehicle but he will have other versions as well as many recreations from the show like the study with bat pole and the bat cave completely detailed out for people to enjoy.
You can find out more at FiberglassFreaks.com. He has a lot of great content there including the full story of building the car and some of the restorations he has done on the screen used Bat 1 and the other promotional vehicles.
Thanks for the great story Mark!
-Rob Kibbe
======================================
This interview sponsored by our pals at National Parts Depot – your premier source for muscle car restoration parts!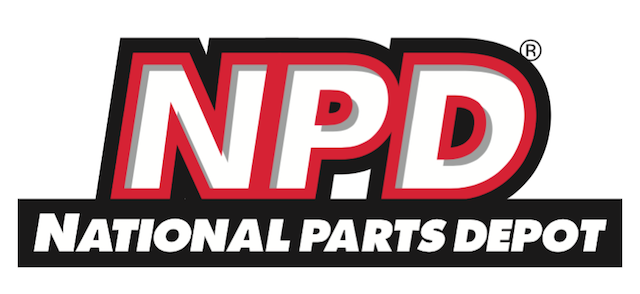 ======================================================