Podcast: Play in new window | Download
Subscribe: Apple Podcasts | Google Podcasts | RSS
FEATURE INTERVIEWS:
SEMA SHOW SPECIAL 2021 – Episode #5:
The SEMA Show is back for 2021 and I decided to send two guests hosts out to Vegas for a week to get interviews. They came back with so much content that I had to release a bonus Thanksgiving episode just to get it all in! This decision has resulted in some interesting and diverse guests quizzed by these two "wanna be" podcast stars. As a reset, this will be the fifth of several podcasts we will release through December featuring great interviews from SEMA. Our two interviewers were Kirk Hansen and Scott Stap. You know Kirk Hansen as a long time show friend and supporter, as well as Scott Stap show writer from previous shows. These two hit the booths at SEMA and met up with old friends of the show as well as some great new companies to talk to. Armed with a mic and a camera they brought back content just for you from the wilds of Las Vegas!
Martin & Jon from Legendary Auto Interiors, Flex Tread Mats:
For many of us, SEMA is sort of a family reunion of friends in this industry. We had the opportunity to meet with long-time friend Martin Beckenbach and had the privilege of meeting Jon Javorowsky of Legendary Auto Interiors. Martin is the creator and owner of Legendary Auto Interiors and truly believes in investing in our country with American Made products. We talked with Martin about how he has invested in engineering and creating specialty tools that make most of the items offered at Legendary Auto Interiors. Martin is obsessed with offering the best quality available on the market. If you ever installed a Legendary interior, you know!
Jon talked with us about his history of automotive involvement thanks to his father's historic building and racing career. Jon benefited from working alongside his father learning auto upholstery. He's able to put those skills to work at Legendary and leads a team to apply new engineering endeavors. One of Legendary's newest releases is the FlexTread floormat. Legendary has a long history of creating floormats for classic muscle cars. They now offer mats for current models as well as universal-fit mats. The cutting edge of the FlexTrend mats is the unique scenery cut into each mat plus the option of camouflage mats. The same pride Legendary has applied to upholstery is evident in the line of Flextrend mats, check it out for yourself at
LegendaryAutoInteriors.com.
James Thomas – 49 F1, 49 Dodge Coupe:
While reviewing the SEMA Young Guns entries we were drawn to James Thomas 1949 F1 titled Big Bacon. This first-generation Ford F-Series pickup was formerly a piece of yard art that Thomas had to dig out. He has always been drawn to older pickups like this one, and the patina of this F1 was on point.  While most builders would opt for a V8 powerplant, James defied the norm and went with a 2JZ.  He said, "My goal was to set out and do something no one has ever done before. To make people love to hate it."
James entered a second vehicle, a 1941 Dodge Coupe he named Aviation Rat. Being the first person to have two vehicles accepted in one year for the Young Guns is remarkable, James was able to make history. The client of the 41 Dodge, who owns an aircraft metal supply business, said his only instructions were to make the Dodge have an airplane theme. James went above and beyond, completing the build in 6 months. The Dodge carried a WW2 fighter plane theme with guns and bombs armed and ready!
James honed his skillset of engineering, 3D modeling, CNC machining, and welding at Chico State, all of which played a part in bringing these two remarkable builds to completion. James has now made the leap and partnered with his friend's startup business JSE or Jay Shackleford Engineering. I would say we can expect great things to come from JSE in the near future! Check out what he is up to at
Instagram.com/jayshacklefordengineering
.
Talbert Goldman – Mike Goldman Customs – 65 Chevelle and 55 Chevy Apache Truck:
In the center of SEMA's central hall is the Mother's Polish Car Care booth. On display at the Mother's booth were two stunting builds created by Mike Goldman Customs. We first meet Mike Goldman and he instantly said you gotta talk to my son Talbert concerning these cars. He was the creator and mastermind behind both builds. Talbert's story follows the old quote "Like father, Like son." From spending every evening in the shop with his dad to traveling hundreds of miles to car shows in the back seat of a '30 Model-A Ford, it was obvious Talbert had a big future in hot rodding. As a young teenager, he was given his grandfather's Studebaker truck to rebuild. After finishing the truck, and receiving his Mississippi learner's permit at the same time, he and his dad drove the truck to events where it frequently found the winner's circle. Mike saw Talbert's talent and sold his shipping company to invest in his son's new endeavors which started Mike Goldman Customs. The business is completely family-owned and operated and is building world-renowned custom classic cars. The Goldman's treated us like part of the family and we truly enjoyed hearing their story which has led to great success. Check them out on
Facebook.com/Mike-Goldman-Customs-Inc
or at
MikeGoldmanCustoms.com
Vibrant Performance, Make it Your Way!:
One of the big things at SEMA in 2021 was electric power retrofits in all sorts of classic vehicles. At the Vibrant Performance booth they featured a Tesla that was converted to LS power. Their way of thinking may be a little different but it is eye catching and sure to get attention. Vibrant produces many products for the car builder to create a work of art with less effort that traditional items in the same market. The exhaust tubing is polished, clean and ready to weld. He told me the key is to provide a tubing that has already taken the work of cleaning away so that you can go straight to welding. They offer many angles, sizes, and shapes of tubing to fit any design need. In fact in the case of the Tesla, the car has a very flat floor pan since it did not have the traditional humps for transmission, exhaust, or other normal gas car stuff, so it required some very oval tubing to fit. Many high visibility performance suppliers, like
BanksPower.com
carry Vibrant products. Check them out at
Vibrant Performance
or ask for their products at your favorite online reseller.
CoverLay Dash Covers:
One of the most irritating problems with old cars and trucks is rotten crumbling plastics. Way back in the corner of the main hall, I stumbled across a booth featuring products to make your interior look new again. Coverlay produces covers that lay on top of your old one and puts a new, uncracked finish to your dash. This is a very affordable way to repair those unsightly cracks without breaking the bank for a whole new dash pad. Coverlay also makes door panels and other plastics that may have deteriorated quickly due to old plastics compositions. Check them out at
Coverlaymfg.com
.
  Thanks SEMA for putting up with these two in 2021!
-Rob Kibbe
========================================
Kibbe's New Invention: The Magic Tee
And now for something completely different. Rob and his buddies spent the last ten years creating, designing, testing, investing, patenting, and everything else it takes to bring a new product to market. It's called The Magic Tee….and it's for baseball and softball training. Seriously. It has nothing to do with cars at all….but the process of bringing a product (and business) to market is something we all need to know about. The full story is in this episode….and by all means, visit www.magictee.io and buy one for everyone you know!
========================================
This interview sponsored by our pals at National Parts Depot – your premier source for muscle car restoration parts!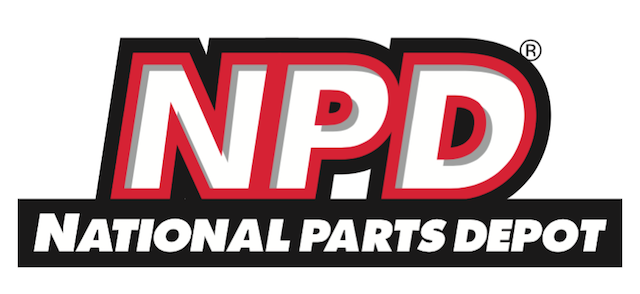 ======================================================
Presented with Ron Francis Wiring!
We're proud to say that the Pro-Touring segment is sponsored by the fantastic muscle car and hot rod wiring supply company, Ron Francis Wiring! Contact them today for their latest catalog and be sure the review their new website for all of your wiring and electrical needs!