Podcast: Play in new window | Download
Subscribe: Apple Podcasts | Google Podcasts | Stitcher | RSS
FEATURE INTERVIEWS:
Nathan Warren:
How to Build "The Fall Guy" Truck!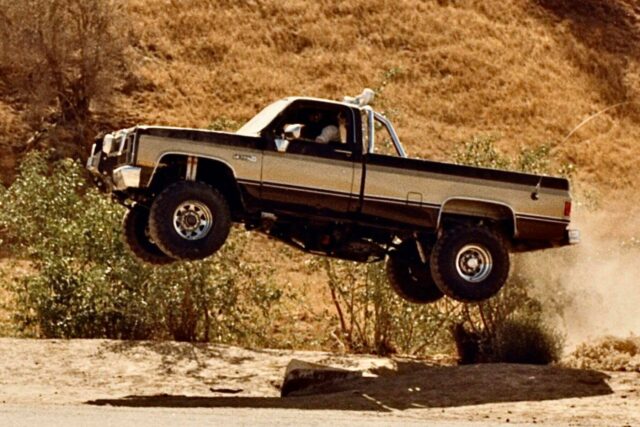 If you've been following this show for a while you know that 1970's and 80's TV cars (and trucks) have had a huge influence on the cars we all love today. From the General Lee, to KITT, to the A-Team, all of those shows featured a hero vehicle that was just as much a character as any one of the individual actors. Today's episode is a full take on yet another beloved classic…and features a full rundown of everything you'll need to know to build your very own "Fall Guy" Square-Body GMC truck! Even better, our guest Nathan Warren has more passion for this topic than anyone I know. Buckle up for takeoff!
"The Fall Guy" ran from 1981 to 1986 and starred the Six Million Dollar man himself, Lee Majors as professional Hollywood stuntman and part-time bounty hunter, Colt Seavers. He and his cast of side kicks and characters would catch crooks in his 1981 GMC Sierra Grande 4X4, a 3/4 ton highly truck that never seems to make it all of the way through an episode without being destroyed. That truck was beloved by many a simple Google search of "Fall Guy Truck" will lead to hours of entertaining YouTube vides.
Our guest Nathan Warren (Warren Customs) did the full "Dukes of Hazzard Season 2" treatment of body, paint, and interior mods on my General Lee replica ("Kibbe Lee"). He even re-created the nearly impossible to find Season 2 pushbar that I loved more than any other. Nathan's attention to detail is second to none, so I was thrilled to get his take on creating a screen accurate "Fall Guy" truck replica. Unlike the General Lee however, a "Fall Guy" truck is somewhat undefined due to the high number of square-body trucks used throughout the series. Some were short beds, some long, some half tons, some not, some "early year 73-79" square-body's, etc. Nathan cut through it all and our focus rested on the "hero" 1981 truck used throughout the bulk of the series. He didn't disappoint at all, and while he knows more than most on the topic Even with all that, he admits there are people who have done a lot more research and invested extreme amounts of time gleaning intricate data from decades old celluloid. He tried to source each and every one as well (see below). 
Nathan is working on gathering parts to make his own Fall Guy truck as well….so here's the full list if items he is rounding up to do so. Just follow the recipe, right?
FALL GUY "HERO" TRUCK Components
1981 GMC 3/4 Ton 4X4 Long Bed Squarebody Truck -Sierra Grande badges (one off, custom pieces)
Bed Roll Bar: Modified -Specific Brush Guard
Winch – Warn 8274
Fog Lights on brush guard and roll bar: Cibie 6″ – 8″ Round
Square Fog Lights on Roll Bar – Cibie square lights
Side Steps
Custom Compartment – seasons 1 thru 4
CB Whip Antenna – 102″ 
4-6 inch suspension lift (depending upon Season)
Wheels
Tires: Cepek Fun Country tires, size: 36x15x16.5
Hood Graphic: Fall Guy Association
CB Radio
"Handcuff" handles (one off, custom piece)
In the interview Nathan also walked me through how he swapped a complete LS flex fuel engine and drivetrain with all of the original wiring and accessories into a customers 1984 square body Chevy truck. He used everything he possible could from the donor vehicle, including the mufflers! The truck will have all of the emissions and amenities of a mid 2000's truck with the classic styling of an early eighties GM truck. It would be the best of both worlds in a Fall Guy clone truck.
You can find out more about Nathan and Warren Customs at WarrenCustoms.com or on Instagram.com/warren_customs_llc.  Nathan has graciously passed on the Facebook pages he uses to get information about this great truck and those are https://www.facebook.com/groups/The Fall Guy Truck and https://www.facebook.com/groups/The Fall Guy Trucks. One will introduce you to people who love these trucks and the other will give you the resources to make one as screen accurate as you can get.
Thanks Nathan!
-Rob Kibbe
======================================================
This interview sponsored by our pals at National Parts Depot – your premier source for muscle car restoration parts!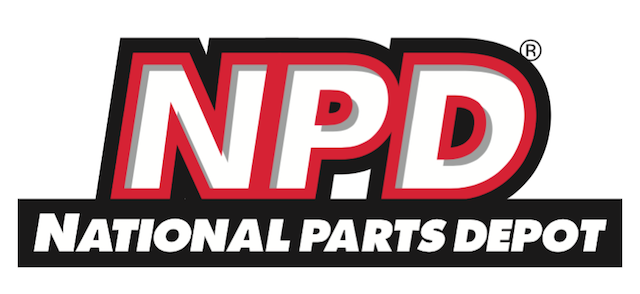 ======================================================
Presented with Good Guys!
As announced in this episode, we're working with GoodGuys this spring to promote their upcoming car shows and autocross events! Of note to many will be the all new "Challenger" class at the autocross, which is a replacement for the old "Hot Rod" class. Full details are on the GoodGuys autocross website as well here: https://goodguysax.com.
Upcoming events include:
Goodguys 6th Griot's Garage North Carolina Nationals Presented by Griot's Garage April 23-25, 2021
**Use Our Custom Link for Signup Discount!**
www.eventbrite.com/e/138860897683/?discount=GGMUSCLE
Goodguys 2nd RaceDeck Salt Lake Nationals May 21 – 23, 2021 Utah State Fairpark
**Use Our Custom Link for Signup Discount!**
www.eventbrite.com/e/138872376015/?discount=GGMUSCLE