Podcast: Play in new window | Download
Subscribe: Apple Podcasts | Google Podcasts | Stitcher | RSS
FEATURE INTERVIEWS:
Clay Millican -Top Fuel Drag Racer
This week is another LIVE FROM THE SCENE interview and this time from our show producer Bernie McPartland. He was able to attend the recent AAA Texas Fall Nationals this past October and record a track side interview with Clay Millican himself!
Clay has been on the show previously and is a very vocal supporter of the show. When he found out that Bernie was close enough to attend one of his races, he pulled out the stops and made it a world class visit for our intrepid producer. Bernie said it was great being up close and experiencing what a day in the life of Clay Millican is really like. The pit was tight quarters and in order to make it work, every had  to know their job and stick to that job. Clay was even caught "packing the chutes" which he admits is a dirty nasty job and willingly offered to let Bernie do it. Of course there is a story behind how he packs them and this one involved Don "The Snake" Prudhomme.
The race weekend went very well and Clay offered his insights on qualifying passes, and explained that his 3:74 second pass at 322 mph that had just happened was not pushing it and even let off at the end of the run to preserve the car for the race runs. There is a lot of prep between each run but even more happens between events. He explained that certain parts of the car fatigue and must be inspected or replaced when needed. The front of the car is usually replaced once a year at about 70 to 80 runs and the rest of the chassis at 300 passes. It was very eye opening to find out that from the start of the season to the end that most of the car has either been replaced or inspected closely after disassembly and rebuilding. It is definitely not your normal street car that stays the same for years.
You can follow Clay and see his home life and on the road at Facebook.com/ClayMillican and also follow his racing stats at NHRA.com/drivers/clay-millican.
Clay, thanks for hosting our man Bernie and being such a great supporter of the show!
-Rob Kibbe
======================================================
This interview sponsored by our pals at National Parts Depot – your premier source for muscle car restoration parts!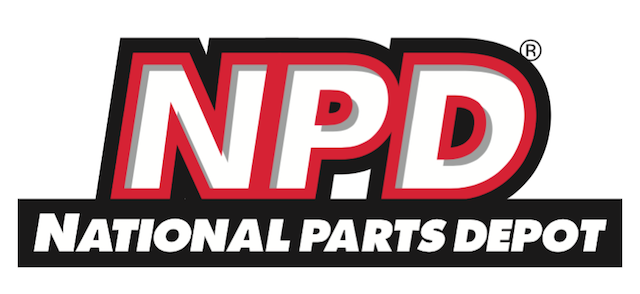 ======================================================
"Ask Rick" with NPD's Rick Schmidt!
In this month's "Ask Rick" I asked about his ride into work…..because it caused him to be slightly late for the recording, and Rick is never late! His dad's '56 Ford had just been completely redone and needed a few "punch list" items to be recorded before they were forgotten. What's interesting is that – until now – I had no idea Rick had a single hot rod at all! It turns out they have two in the collection and they're both '56 Ford trucks; a black pickup and a blue panel truck. The history behind them is an insight into how an auction can turn and a great deal can be had.
A listener also asked if Rick would change his business strategy at all based on who wins the election in 2020. In  short Rick's answer was….no! As he has mentioned in the past, his father taught early on that the best way to stay in business is not to be in debt to it, and to be cash strong and build inventory as assets. Many competitors to NPD have come and gone simply because they got too deeply in debt to recover. Rick also covered the changes in how sales tax is applied to all online sales. For those in business…listen up!
======================================================
Presented with Holley!
Holley has TWO MASSIVE contests running right now – and you can enter ti win! Prize #1 is a 427ci built-to-the-hilt small block Ford. Prize #2 is David Freiburger's very own '66 Buick convertible – the car that started Roadkill!
Links are below to enter. Be sure to tell Holley we sent you!