Podcast: Play in new window | Download
Subscribe: Apple Podcasts | Google Podcasts | Stitcher | RSS
FEATURE INTERVIEW:
Byron Burnham – The All Steel IMSA Vega!
This weeks interview with Mr Byron Burnham, a well rounded individual with a very jolly disposition and a penchant for Chevy Vegas! His "IMSA" inspired '76 Vega is a standout at every event..but that's only a part of Byron's M.O. By summers, he's a race car driver with a fast sled that's the only one of it's kind. By winters….same story, but a different sled!
Byron is a favorite at Ultimate Street car events, Good Guys events, and really – any event. He started working on and modifying cars at a young age and even started building his own Fird Model T to take his driving test with. His dad discouraged this attempt and it led to the purchase of a Chevrolet Vega and the rest is history. Byron said he has had a Vega of some sort and condition ever since. He's owned every year model of the car made save one, but the reason he came on this show is for a 1 of 1 creation that may have just lured John DeLorean BACK to GM!
The 1976 Vega that Bryon drives now is a far cry from the lowly econo-car beginnings that Corporate GM built the car to be. Everything on the car has been modified and is meant to race. The suspension, chassis, brakes, even the body kit is like a who's who of high performance parts and custom fabricated items.
The stock Vega motor  just could not handle the demands of a normal commute much less the high speeds needed for racing so a 600 horse power LS3 had to be wedged into the engine compartment along with a few creature comforts like air conditioning, a helmet colling system, and even a "cool shirt" system for hot racing days.
Just like his Christmas alter ego, Byron's work is never done. The Vega can always be better and he recelty had Robby Unser rive and give some feedback regarding the setup if the car. Byron listened, grabbed some tips, and has already implemented several changes. He has been working on the car for many many years and it actually debuted at Delmar in 2017, In 2019 it was a "Hot Wheels" finalist as well!
Here's where this very interesting story takes a step upward. Many years ago Byron moved to California and got involved with that states biggest export; Hollywood movies. He had been working in a stunt show at an amusement park and was approached to be in movies doing the same thing. He is a full SAG card holding member of the entertainment industry but found the area too expensive to stay. He is now back in his family home in Nebraska.
Here's where it gets even more interesting. Some years ago, his son talked him into growing a beard to "get his man card". He started with a fu-man-chu and that morphed into a goatee which then turned white. He let it grow out fully and his true calling was found. He's Santa Claus! He has played Santa on a yearly basis at local malls but even in the middle of race season is easily identifiable as the man from the North Pole. In fact…the red striped on his Vega really seem to cut through the murkiest of fog….
Thanks for the great interview Byron! Talk to you at Christmas!
-Rob Kibbe
======================================================
This interview sponsored by our pals at National Parts Depot – your premier source for muscle car restoration parts!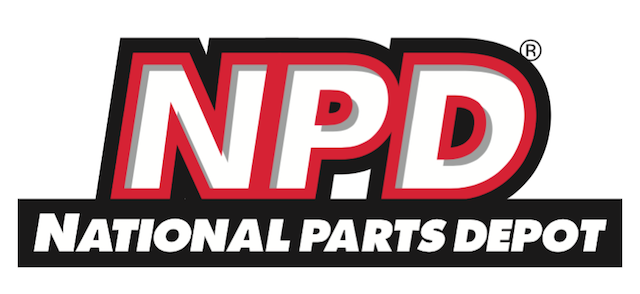 ======================================================
The Pro-Touring.com Update
with Larry Callahan!
2020 Pro-touring Events: With the the COVID-19 virus restrictions being relaxed slowly, many events are still in question. Some events are in areas that have had the restrictions lifted but the venue is closed for some reason and the whole thing is now in question. Situations are changing on a daily basis and it still pays to check and recheck before loading up and heading out for the weekend.
Listen in for a full rundown of what's happening and what isn't! As always Autocross and Pro-Touring events are featured at Pro-Touring.com
=====================================================
We're proud to say that this segment is sponsored by the fantastic muscle car and hot rod wiring supply company, Ron Francis Wiring, and we're very appreciative that they are our show sponsor!
Thanks, Ron Francis!
======================================================
Presented with Holley!

Holley TerminatorStealth EFI – 550-445 on #KibbeLee! Photo by Erick Barrandey – @rolledingold on Instagram
Holley is the official EFI source for Kibbe and Friends and is the PROUD sponsor of this episode! Their Terminator Stealth system on my General Lee is killing it. There's a BRAND NEW MOPAR EVENT listed on their website that you need to save the date for as well: Sept 18-20 in Bowling Green, KY. Hint – there's a General Lee jump! https://www.moparty.com