Podcast: Play in new window | Download
Subscribe: Google Podcasts | RSS
======================================================
FEATURE INTERVIEW:
Tommy Lee Byrd:
Coker Tires
This week our guest was Tommy Lee Byrd, Marketing and PR Coordinator for the Coker Tire Company. Coker is a HUGE name in restoration and specialty tires and have been a company I've wanted to speak with for some time.
Tommy grew up around drag cars and racing so when he went off to college he just wanted a profession that would let him be around cars. Tommy's dad even sold everything he could to buy him a '64 Corvette coupe as a gift and this set his mind on muscle cars for life. He also owns a 1964 Chevelle that is his "Grandma car" and just plain fun to drive around in.
Coker Tire got it's start in 1960 when Harold Coker purchased a BF Goodrich dealership in Chattanooga TN and got access to the manufacturers of tires. He started ordering special build tires for antique vehicles made from antique tire molds to fit the classic cars of that time. He either obtained the rights to use the name of the old tire manufacturers or he simply put Coker on the sidewalls, and a brand was born. The Coker family would go to car shows and advertise these tires at events catering to that market. Coker built up it's collection of old tire molds after they were discontinued by the manufacturer and expanded the tire line to what it is today.
By having contacts at the major tire manufacturers, they were able to make agreements to continue using the brand names on the tire made with these old molds. Tommy said that the radial tires with wide white walls that look like originals, has really been Coker's trademark over the years. Modern radials have better ride and tire life while they enhance older vehicles in comfort and safety. The original Coker radial was the companies own design, and was made to be like the classic tires customers were looking for. Coker's American classic tires are made in the USA using Coker designed molds.
You can follow Tommy on Facebook.com/byrdphotography or on his website at Byrdphoto.wordpress.com and you can follow some of his videos at YouTube.com/user/blown64vette.
If you are interested in Coker tires or just seeing everything they are offering you can check out Cokertire.com. Your next set of classic tires may be just a click away.
Thanks, Tommy!
-Rob Kibbe
======================================================
This interview sponsored by our pals at National Parts Depot –
your premier source for muscle car restoration parts!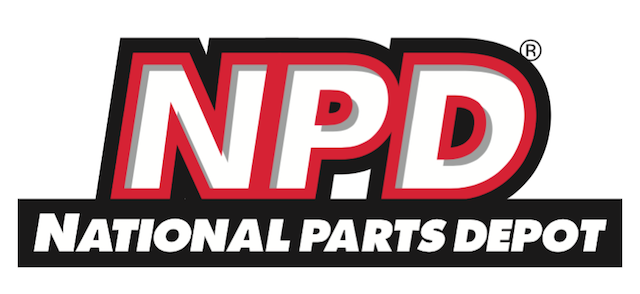 ======================================================
"Ask Rick" with NPD's Rick Schmidt!
On this edition of Ask Rick, I asked him questions from your emails. The first question was what he does for vacation over the summer…..and is racing a part of that? Rick's take: The whole racing experience has been enhanced so much by TV coverage that unless you are a real race junky the "live and in person" viewing can be a bit boring. He did say that it is worth it to visit once to hear the sounds and feel the power of the car going by, just don't expect to know who is in what position.
A listener asked if Rick plans to expand NPD offerings to include parts that currently do not exist for under served vehicles such as Dodge Sweptline trucks. NPD warehouses parts that already exist in the market and while they have many parts that are hard to find they do not create new parts. He said there are choices and options out there and hates to send a customer somewhere else but NPD is not always the place for the less sought after vehicles.
Each month I ask Rick his option on a car for sale on the internet and this time was nice condition Riviera. The Buicks are starting to become more popular but parts are still hard to find and most trim parts are not produced so when a nice one comes along it is worth looking into. Complete in depth restorations are beautiful when done but if you start with one  that is missing it's trim you will have a lot of effort in finding new or nice parts. It is better to find a great condition vehicle that already has its trim.
Thanks Rick, thanks for another great interview!