Podcast: Play in new window | Download
Subscribe: Google Podcasts | RSS
======================================================
FEATURE INTERVIEW:
SEMA Show 2018
Revalvable ON THE CAR Shocks from QA1 and Realistic RC Machines from TRAXXAS
This weeks installment is the third of multiple LIVE from the show floor episodes from SEMA 2018. This time I was able to check in with old friends and find out the latest in innovation and design from both QA1 and TRAXXAS. It didn't disappoint!
Interview #1 : As I talked to people at SEMA I kept hearing about something special at the QA1 booth. I talked again to my friend Dave Kass and he showed me the holy grail; their all new revalveable while on-the-car shock! It's a "dry" valve that is incorporated into a removable valve knob pack that can be removed from the shock externally, allowing a quick swap in between runs at all of your favorite events. It's small enough that you can keep several units in the glove box of your vehicle and/or toolbox.
It that wasn't enough, Dave went on toe show me another new offering….carbon fiber sway bars! Following on with the r carbon fiber driveshaft line, the sway bar is a new, strong, and extremely lightweight way to create a product that has always been made the same way. I was able to hold an General Motors A-body Sway bar with two fingers!
QA1 will also be playing a BIG roll in the 2019 OPTIMA Ultimate Street Car Series and will be onsite at all events offering track support. Perhaps we'll see Dave run his long bed '72 C-10 even more there!
Interview #2 : Like a lot of car enthusiasts, I love R/C cars. I really wanted to to stop by the TRAXXAS booth to see what they have new to offer this year and was stunned by the level of detail on many models on display.
The TRAXXAS Unlimited Desert Racer is where things began and it is – frankly – a minaturized stadium truck with AMAZING detail. Standing next to the real truck and holding the model it really hit home how accurate these R/C cars can be. To add to that, their rock crawler trucks and cars are just as sensational, and their new agreement with General Motors as allowed them to produce some really realistic and accurate car bodies. I'm in love with their Caddy CTSV! You can see more at Traxxas.com.
Announcement #1 : As Christmas approaches and the thoughts of giving and goodwill abound I believe it is time for a giveaway. In conjunction with Super Sport Transmission we will be giving away a TCI EZ TCU electronic transmission controller package. Details will follow soon so keep an eye on our Instagram channel for the announcement soon.
-Rob Kibbe
======================================================
This interview sponsored by our pals at National Parts Depot –
your premier source for muscle car restoration parts!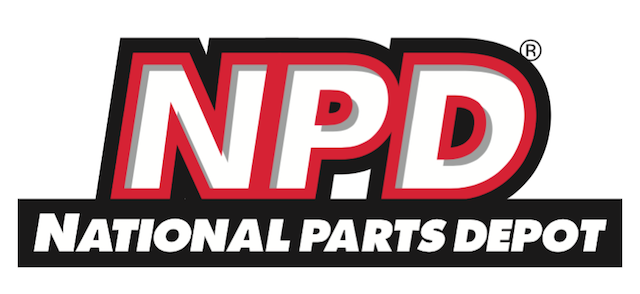 ======================================================
"Ask Rick" with NPD's Rick Schmidt!
For our December segment with Rick I asked about his plans for Christmas and since he spends the rest of the year driving around the country to shows, he says he is done for the year and just staying home. He is looking forward to watching Christmas movies and hanging with the family. The business at NPD also handles a lot of sealon purchased from friends and family of car people – and (aside from parts, of course) the gift cards are one of Santa's favorites!.
I was specifically asked by a listener about a farm auction selling a Cadillac that is very unique. It is a 1950 sedan with a P&H Diesel drive train that looks to be very well done….to the point that it appears as if it could be an old GM ordained conversion. Rick assured me that GM would never have built such a creation especially in that era of low fuel prices. He did go on to say that the car was not totally worthless, but any price paid for the car will be long forgotten and over shadowed by the money spent restoring the vehicle, especially if it is going back to original condition. He believes that if nothing else it will be purchased for an LS swap type build and made into a street cruiser.
2019 Catalog updates will be released and Rick says it is the culmination of a huge effort to make sure the latest products are all represented. NPD makes sure that customers know about what new parts are now available for their favorite vehicles. If you would like to purchase an NPD gift certificate for your muscle car loved ones, check out NPD's gift certificate section at npdlink.com/gifts-and-apparel/gift-certificate.
Thanks once again Rick!