Podcast: Play in new window | Download
Subscribe: Google Podcasts | RSS
======================================================
FEATURE INTERVIEW:
SEMA Show 2018
Wires, Fuel Systems, Mustangs, and Optima Jim
This weeks installment is the second of multiple LIVE from the show floor episodes from SEMA 2018. I was able to wander the floors of the show, see some trick products, catch up with industry leaders, and just have a little fun with friends. In this second installment I spoke with Scott Bowers in the Ron Francis Wiring booth, Jeff Teel at Holley, Chris Blue and Jesse Henke by the ShockR Mustang, and wrapped it all up with Optima Jim and his amazing one-of-a-kind '69 Mercury Cyclone.
Interview #1 : In this interview from SEMA I caught up with Scott Bowers at the Ron Francis wiring booth where they are once again hosting an amazing Chevelle. Scott even mentioned that the Ron Francis booth is starting to be such an attraction that he is having to vet the multiple requests and make sure that the vehicles would live up to the high expectations. He admitted that even his cars would not live up to the reputation of the vehicles that have graced the space. Jeff Allison was there and accepted this high praise as two of the previous cars were built by him, but he also complimented the great Ron Francis products as being a huge part of these builds.
I did ask Scott what his best selling product was and he quickly referred to their Express Wiring kit. He believes that most people struggle with the prewired fuse blocks used in other kits, where as with the Express kit you wire the fuse block after you run the wires out to the features you want to power.  You can learn more about Ron Francis Wiring at RonFrancis.com
Interview #2 : I stopped to check in with Jeff Teel in the Holley booth. Jeff has been helping me with the fuel system in the General Lee and the Holley system will make a HUGE difference (in addition to the Hooker Headers, Weiand Intake, Accel Plug Wires and Coil, Mr. Gasket one-wire alternator – all of which are also Holley brand products).
I wanted to find out about the latest injection products offered. Their Sniper EFI throttle body is designed as a direct carburetor replacement, with everything is self contained (including the ECU) in one unit and is the easiest path to fuel injection on an older vehicle. Of course Jeff said there were options, many options, when it comes to how in depth you want your fuel injection system to work with the rest of your drivetrain. Find out more about Holley products at Holley.com.
Interview #3 : When I walk the floors of SEMA sometimes a car just stands out. The ShockR Mustang is one of these cars! I spoke with Jesse Henke of JH Restorations and car owner Dr. Christopher Blue . This was Chris's first car that he bought when he was 16 years old and there is a story that his wife saw the Mustang as it was brought home on the trailer. It was soon after that they had their first date. This is a life changing car and it will not be sold – and is a family member! Chris and Jesse collaborated on many of the features and in the end they are both excited about the results. You can follow JH Restorations on Facebook.com/jhrestorations.
Interview #4 : I found Jim McIlvaine of Optima Batteries, or more commonly known as "OPTIMA Jim",  in the booth next to his 1969 Mercury Cyclone. With Jim was Randy Johnson of D&Z Customs, the builder of the car. There are many Detroit Speed parts in this build including an adapted Mustang Aluma-Frame front suspension and 4-link rear suspension (Kyle Tucker even helped Randy with the re-purposing of the setup).
The power plant took a lot of massaging too since it is dry-sump Chevy LS7 engine ….well disguised as a Big Block Ford! Randy even put in trick FoMoCo valve covers, a gutted distributor complete with fake plug wires, etc. There are many other discreet features such as Mustang tail lights and body massaging that are practically indistinguishable when presented as a whole. Obviously, to accommodate Jim's NBA player height required some creativity in how the seat placement and fitment would work, and Randy sized the drivers seat position using a tapered floor pan that (somewhat) allows the seat to move both backwards AND down at the same time (like a roller coaster going backwards).
Funny enough, both Jim and I are huge Dukes of Hazzard fans. He chose this car – and this color – to be the opposite of the General Lee. Blue is on the opposite side of the color wheel as orange!
You can check out more OPTIMA information at OptimaBatteries.com .
Stay Tuned, even MORE SEMA fun to come!
-Rob Kibbe
======================================================
This interview sponsored by our pals at National Parts Depot –
your premier source for muscle car restoration parts!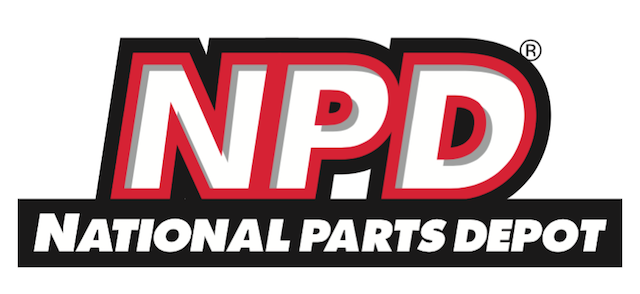 ======================================================