Podcast: Play in new window | Download
Subscribe: Google Podcasts | RSS
======================================================
FEATURE INTERVIEW:
Jeff Teel; Holley Performance Products
Terminator Stealth Fuel Injection
Our guest this week is Jeff Teel, Events and PR coordinator for Holley Performance Products. In my quest to build an accurate street drive able General Lee clone I have decided to go with fuel injection, but clothed in period accurate looks with a gold Holley atop a Weiand intake just as they used on the TV show back in the day. I saw the Terminator Stealth EFI system at SEMA and thought it was perfect for the General Lee….even before I actually had a General to put it on!
Jeff explained some of the capabilities and pointed out that Holley wanted to design it as a system that customers could grow into. The backbone of the system is the Dominator ECU – meaning control of this system if effectively limitless. Want to just plug it in and have it auto tune? You can. Want to go hog wild and install crazy induction with timing control? You can!
Another reason I was so interested in this system is that Holley offers a transmission control option that will allow the same computer to control my new SilverSport overdrive transmission as well (which is a 4L60E). This means I'll have a single source controlling all of the related functions that come with an electronic transmission such as throttle position, load, performance mapping, and the like. Effectively I'll have the control that "new" cars have had since the 1990's!
Customers can control the functions from a small touch pad which can even control shift points, shift performance, etc. The systems can even take inputs from external modules that can be added to transmissions without electronic speed outputs. Holley has many options and are happy to help customers customize their own systems or point out alternate ways to get the best results.
I'll also be running a few other pieces of the system from Holley that will make a full front to rear bulletproof setup such as the MSD 6-series EFI Ignition box, their Dual Sync Distributor, a Sniper EFI Fuel tank specific for a '69 Charger (with the pump in the tank), a chrome Accel coil, blue Accel plug sires, and polished Hooker Headers! Basically, if the Duke boys popped the hood of this General they'd see a familiar looks – and approve of the performance gains too.
======================================================
This interview sponsored by our pals at National Parts Depot –
your premier source for muscle car restoration parts!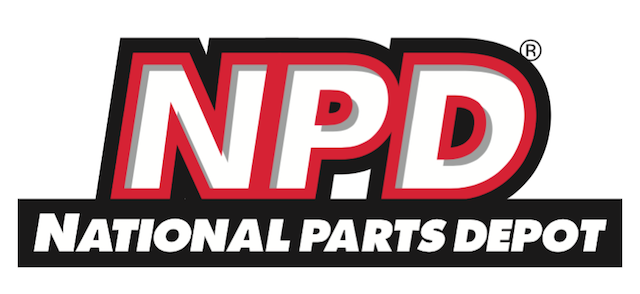 ======================================================
"Ask Rick" with NPD's Rick Schmidt!
Listener Question: Amazon Discount Parts – Pros and Cons
This month I had the pleasure to "Ask Rick" about his thoughts on discount restoration parts, primarily because you can "find anything online" these days. Rick's answer was (as always) fairly direct – and if you have any interest of customer support, parts search help, being able to return a product easily when you purchase the wrong thing by mistake, etc., that's where the difference comes in!
NPD has gone the traditional route for years and literally owns their inventory (ie. they  don't dropship it). They set their prices at a constant as-low-as-practical number, don't do sales, and just rock on helping customers find the right parts for the car no matter what. They also support the industry directly with shows like this, regional car shows, and a billion other places that matter to car guys and gals everywhere. It makes an impact as you'll see below; TMCP Listener Scott Lewis is shown proudly holding his NPD Camaro catalog with his very own Camaro!
Thanks, Rick!