Podcast: Play in new window | Download
Subscribe: Google Podcasts | RSS
======================================================
FEATURE INTERVIEW:
SEMA Show 2017
New Classics, Less VOCs, More DC Power
This weeks episode of the show is the third and last of our multiple LIVE from the show floor interviews from SEMA 2017. I was able to meet old friends of the show, see some amazing cars, and hear about some great products!. This third installment is with friend of the show Rick Love from Vintage Air, Kevin Ansell from 3M corporation, and Lance Stander, CEO of both Superformance and Hillbank Motor Corp.
Interview #1 : I once again caught up with my friend and CEO of Vintage Air Rick Love. I asked him about  power requirements on the newer high tech systems being installed on classic muscle cars today.He said that power requirements are definitely up but more importantly the engine speeds needed to hold that power output has gone down. It is important to be able to deliver almost full output (135 amps) even at idle speeds in order to supply the various entertainment, comfort and cooling needs of today's new and recently updated vehicles.
Of course I asked Rick about projects he may be working on and he told me about his 1939 Ford Delux Coupe. He said he has had the car most of his life and he misses it while it is apart being restored. He mentioned he is sticking with the classic engine instead of an LS or LT but is upgrading to a FITech fuel injection.
Interview #2 : I met up with Kevin Ansell at the 3M booth to find out about the latest offerings. They are always updating formulas of products to meet government regulations or to simply make the products better. Even normal everyday products are updated to meet new regulations or improve it's functionality. Surprisingly brake clean is one of these products. The ultra low VOC mandates from California and a handful of other states impact even the lowliest of cleaners. Kevin said that 3M is not satisfied to just meet regulations at the sake of usefulness. They have been able to revise these cleaners to not only have low VOC levels but to work better than ever. We also covered updates to abrasives, sandpapers, and even "Bondo" body filler!
Interview #3 : Last year I talked to Lance Stander, CEO of Superformance   and Hillbank Motor Corporation so I made sure to look him up and see what was going on. First thing Lance did was to give me a drift ride in a Shelby Cobra. He told me about an upcoming a 50th anniversary Bondurant edition Cobra. It should be ready for Barrett Jackson. Lance said he was with Bondurant recently and it is still amazing how much control he has over a race car even in his 80's.
Superformance is working hard and waiting for EPA to finalize regulations to allow classic vehicles to be reproduced in small quantities with new fuel efficient and smog compliant engines.
We had a great time at SEMA 2017, and it was great catching up with old friends and seeing new muscle car products!
-Rob Kibbe
======================================================
This interview sponsored by our pals at National Parts Depot –
your premier source for muscle car restoration parts!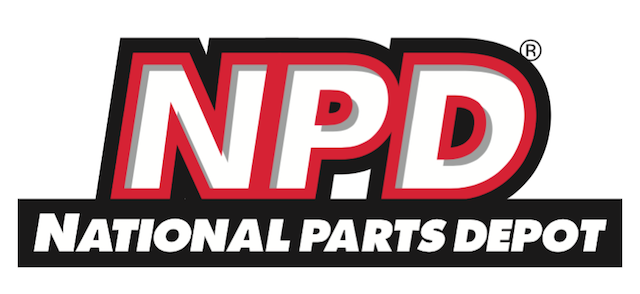 ======================================================
"Ask Rick" with NPD's Rick Schmidt!
Holiday Season at NPD
This week, I asked Rick about the Holiday Season at NPD and in particular a certain video produced a couple years ago depicting a boy, Santa, and a red Mach I Mustang. Rick said the Mustang in the clip is his very first car and the video depicts a young boy getting one for Christmas.
I started the conversation asking Rick about visitor access to the massive NPD car collection and if people could just walk in and take a tour. It seems that at one time the collection was open for visitors to look at any time but quickly figured out that not all people respected classic cars like we do. He said that he found people inside the cars, under the hoods, and kids jumping on running boards. Currently, if you would like to have a tour you will need to be there on a slow day and potentially wait or come back later when an employee is available to host a tour. It IS worth the wait though as NPD hosts an amazing collection of beautiful cars.