Podcast: Play in new window | Download
Subscribe: Google Podcasts | RSS
======================================================
FEATURE INTERVIEW:
SEMA Show 2017
Huge Torque, Tiny Cars, Lots of Giveaways
This weeks episode of the show is the second of our multiple LIVE from the show floor interviews from SEMA 2017. I was able to meet old friends of the show, see some amazing cars, and hear about some great products!. This, the second installment, is with Dustin Nixon from Traxxas, Russell Holmes from the TV Show Garage Rehab, Matt Corish from V12 LS,  Jason Gauci from Lund Muscle Car Accessories,  Ken Lingenfelter, and Chris Phillip of Dream Car Giveaway.
Interview #1 : Traxxas is known for great R/C cars and I cornered Dustin Nixon to ask him about some of their products. The cars are built tough, meant to "fly", and are inexpensive to replace broken parts. Dustin said it is very empowering for parents and kids to work together and fix broken toys and make them run again. Traxxas is hosting a giveaway where you can win $10k shopping spree or a ride in a Top Fuel Dragster with Larry Dixon
Dustin was also able to give me some flying tips for R/C vehicles and basically is a matter of throttle and brake. Throttle brings the nose up, and brakes bring the nose down. Of course the mass of the tires and weight of the vehicle all make a difference on how responsive this is. I cannot wait to try this at home!
Interview #2 : I was able to meet Russell Holmes from the hit TV show, Garage Rehab and ask some behind the scenes questions. He, together with Richard Rawlings of Gas Monkey Garage, come in and use Richards money to refurbish a garage in need. Think of it like the TV show Bar Rescue, but for auto shops. When the place finally makes enough money to repay then the shop is theirs. If they cannot pay back the investment, then there is a new Gas Monkey location, or whatever Richard wants to do with it. This means there is a lot of research into each project well before the start of making the show and many financial decisions need to be weighed. You can find Garage Rehab show on the Velocity Channel and you can get more info on the Discovery Channel website.
Interview #3 : Matt Corish of V12 LS.com met me in the Ron Francis Wiring booth to discuss the V12 LS engine they offer. The torque curve is incredible and Matt says that as soon at the converter hooks up, the tires break loose. Sounds like my kind of good time! They utilized 3d printers and many rapid prototyping processes to go from concept to saleable engine in just two years.
Interview #4 : I met up with Jason Gauci in the LUND booth to find out about some new products including a powered retractable topper. He also told me about some new muscle car products such as fender flares.  Finally Jason told me you can sign up to win a Supercharged Challenger with ground effects and lighting on the Lund website. Winner will be announced at the next SEMA. Visit GetAVS.com to get signed up!
Interview #5 : I met up with Chris Phillip again and he introduced me to the Bandit Trans Am winner Tony Lanzillotti. Tony told me the story of how he found out he was a winner. This time around, Lingenfelter has teamed up with the Dream Car Giveaway to bring the next pair of great giveaway cars, a 1963 Corvette Split window "fuelie" AND an Lingenfelter signature edition Z06. The Lingenfelter Collection is only open for charity fund raising events and that is what makes it a great partnership with the Dream Car Giveaway since they also raise money for charities.
Stay Tuned, even MORE SEMA fun to come!
-Rob Kibbe
======================================================
This interview sponsored by our pals at National Parts Depot –
your premier source for muscle car restoration parts!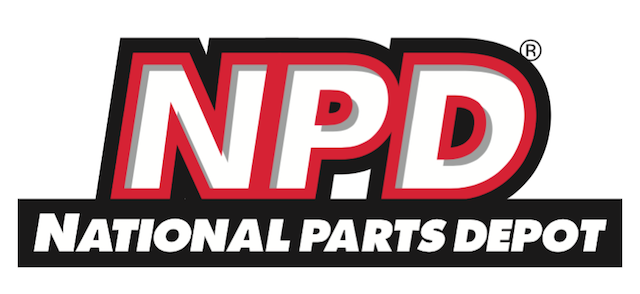 ======================================================