Podcast: Play in new window | Download
Subscribe: Google Podcasts | RSS
======================================================
FEATURE INTERVIEW:
LISTENER NOTE: This is a particularly long show. If you'd like to skip around, the major segment start points are as follows: Aiello Interview begins at 9:52. Pro-Touring Segment begins at 50:18.
This weeks interview is with previous show guest Vincent Aiello, a '67 Mustang driving, F-18 flying fighter pilot friend, and former show guest from many years back (Episode #91). My wife and I were invited to attend his retirement ceremony in San Diego over the New Years weekend, and to say it was an amazingly moving ceremony would be a massive understatement. It was incredibly moving, inspiring, patriotic, humbling, and kick-butt all at the same time. The ceremony was held aboard the U.S.S. Carl Vinson, and as good fortune would have it it was the same carrier that his very first landing in a fighter was on! Vincent spend nearly 25 years in the cockpit of high performance aircraft in the service of his country, and the ceremony touched on all of the unbelievable aspects of his life that happened to accomplish his unbelievable dream.
This particular show will be different than any other I've done, because the guest wasn't really a guest! In this show you'll hear a few segments of the ceremony that I wanted to pull out that tell a story of accomplishing – and celebrating – a huge accomplishment.
Nearly every kid that I grew up with likely wanted to be a fighter pilot at some point (myself included – thank you Top Gun), but very few pursued and hopped all the hurtles required to get there. Vincent did it! He even lost his wings once medically due to a serious heart issue, and may be the only person ever to gain them back. I made sure to share that story in here as well – his Dr. just "happened" to be a pilot as well and saved his life – and helped him get his wings back as well!
My hope is that for those of us listening that this show will inspire you to think about chasing those big dreams, celebrate the ones you've achieved, and to learn to put to bed any past regrets you may have had that could be holding you back. I'm a firm believer that we all have a bright future ahead of us. Even more importantly, I hope you'll learn in here that chasing big things takes a team, and in this case Vincent family (as he acknowledged) all received a huge credit to his success. Really, the entire Aiello clan was celebrated in this ceremony and all got the joy of celebrating the end of a magical career.
Lastly, the reason that Vincent and I met in the first place was not due to aviation at all, but to a love of old cars. He was a show listener and contacted me at some point, and our first connection was actually car related first!
I'll be that a number of you out there can think of one, two, or maybe even 10 great friends that you have now all thanks to a common love of cars. That's something to celebrate here as well. I did realize at the ceremony though that Vincent is a special breed, and makes life-long friends with just about everyone! I should note that he let me drive his '67 Mustang just prior to his party…and it was raining! Cool dude, indeed.
I'll share a number of pictures from the weekend at the bottom of this post. It was an unbelievably fun trip and is one I'll never forget. Be sure to check out the video Vincent's son Slater created below as well as a gift to his dad for his retirement ceremony. I feel the need…the need…for speed!
-Rob Kibbe
======================================================
This interview sponsored by our pals at National Parts Depot –
your premier source for muscle car restoration parts!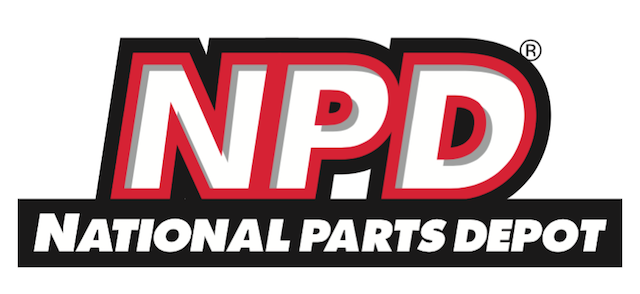 ======================================================
The Pro-Touring.com Update
with Larry Callahan!
GoodGuys AutoCross Rules Update: Larry and I reviewed the 2017 GoodGuys rules changes. The most awaited rule change upping the year range past 1972 did not happen, but one new one was introduced….and several older ones will be more heavily enforced.
Decibel Requirements : Due to issues with loud exhaust and complaint from nearby home owners at DelMar, GoodGuys has implemented a noise rule (Car Safety Rule 14) of 90 decibels max. This rule may possibly apply to the one location but is a good rule of thumb for any event. This rule will be enforced (at this point) by ear and not by decibel meter.
Helmet Requirements : NEW RULE FOR 2017! All riders and drivers will be required to wear a DOT or SFi approved helmet. There may be loaners available at the events but it is always good to wear a helmet in racing environments.
No Alcohol in Pits Requirements : No Alcoholic Beverages allowed in the pits. This is one of those common sense rules as there are a lot of people around that could get hurt with the loss of control that drinking and driving brings.
As always Autocross and pro-touring events are featured at Pro-Touring.com
Ron Francis Wiring: The Black Box Giveaway is DONE!  December was the last round and I am looking forward to what Ron Francis Wiring comes up with next. Stay tuned for information on the winner.
We're proud to say that this segment is sponsored by the fantastic muscle car and hot rod wiring supply company, Ron Francis Wiring, and we're very appreciative that they are our show sponsor!
Thanks, Ron Francis!
======================================================
Retirement Ceremony Pics!