Podcast: Play in new window | Download
Subscribe: Google Podcasts | RSS
=======================================================
We made it! This week is the last round of SEMA interviews from 2016. SEMA's 50th anniversary was great and many quality vendors were there. I soaked in enough information to keep the show going for quite awhile but this is the last of the live interviews until next year.
Interview #1 : Blane Burnett, Marketing & P.R. Coordinator at Holley Performance Products. Blane (who resembles both Dale Earnhardt and Matthew McConaughey) told me about the joining of Holley and MSD and that this will let them make even better more coordinated products. We discussed their new Sniper Fuel Injection systems from Holley that are an inexpensive yet powerful introduction for updating older vehicles. They even offer a new "faux" Holley carb look alike fuel injection system to retain old car looks in the engine compartment!
Interview #2 : THE Rick Love, Executive Vice President, Vintage Air: Rick talked about his great experiences with SEMA, the youth program, and other volunteer positions he is involved with. He has been to each SEMA show since 1995 and loves every year.
Rick also talked about Vintage Air providing more and more LS (and now LT) related products for newer engine converted vehicles. We even chatted about adding A/C to FJ40's and old Ford Hot Rods. It is always great to catch up with Rick and it is a highlight of my trip to SEMA 2016!
Interview #3 : Stephen Leu, Brand Publishing manager at NittoTire: Stephan talked to me about tires like "knobbly off road tires", truck tires, snow tires and even some Pro-Touring applications. Of course I had to get some photos in front of the bright orange Dodge…truck, in the Nitto booth. This was my first interview with Stephen, and I hope many more are to come. He's smart, thoughtful, and knows his business well!
Interview #4 : Mike Hallmark from Hellwig. We discussed the the broad spectrum of Hellwig products from truck air bag systems to front and rear adjustable sway bars for your vintage muscle car. Many vehicle do not even come with full sway bars and adding a Hellwig system makes them go from a sloppy jalopy to a race car (feeling). The make products for EVERYTHING…and even have swap bars for my '73 VW Karmann Ghia!
Mike also told me that over the next few months he would be on the road in their incredible 2016 Nissan Titan XD that they named "Rulebreaker" showcasing how Hellwig products can level and stabilize heavy loads you may be hauling. He made sure to point out that suspension product do NOT increase the load capacity of a vehicle, it only makes it safer by stabilizing the vehicle and getting more weight centered on the truck.
Thank you for checking out the 2016 SEMA Edition Muscle Car Place shows. I hope you enjoyed the interviews as much as I did and I look forward to doing it again next year.
-Rob Kibbe
=======================================================
This interview sponsored by our pals at National Parts Depot –
your premier source for muscle car restoration parts!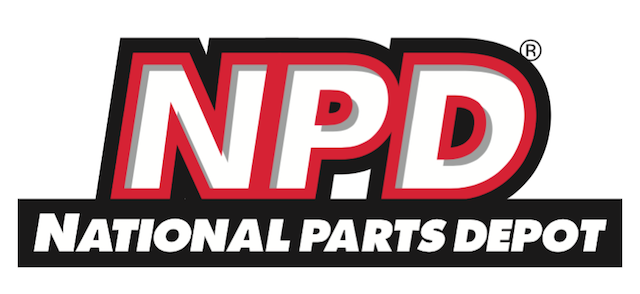 =======================================================
The Pro-Touring.com Update
with Larry Callahan!
Ron Francis Wiring: The Black Box Giveaway is underway!

Check it out at TheMuscleCarPlace.com/BlackBoxgiveaway
Make sure to check your email and your social media posts and your spam folder for updates to make sure you do not miss out. Also keep an eye on the Pro-Touring.com update of the The MuscleCar Place Podcast for other news. You need to get your submissions in now and use every way possible to enter to have the best chance at the last drawing in December!
We're proud to say that this segment is sponsored by the fantastic muscle car and hot rod wiring supply company, Ron Francis Wiring, and we're very appreciative that they are our show sponsor!
Thanks, Ron Francis!