Podcast: Play in new window | Download
Subscribe: Google Podcasts | RSS
=======================================================
SEMA 2015 brings thousands together to see the latest in performance technologies and talk about what is possible in the future. This week we I'm proud to feature three more interesting interviews that I know you'll love!
Interview #1 : I caught up with RJ Gottlieb and got an update on all things Big Red Camaro.It is always nice to meet people in the industry but is really great to finally meet people I have interviewed face to face and especially one of my "Top 10 to interview" personalities since 2009.
I also was able to check out Big Red up close and personal and I can tell you that  this car is the real deal. I was expecting a stock car wrapped in Camaro sheet metal but that is not the case. RJ told me about a NEW body Big Red Camaro Tribute car that has been built by SLP and will be auctioned off for the Ride 2 Recovery charity that builds bicycles for injured Veterans.
Interview #2 : Mitch from RPUI (Restoration Parts Unlimited) who told me about the companies under the RPUI umbrella including Trim Parts, Inc.,Parts Unlimited, Inc., The Right Stuff Detailing, SoffSeal, First Place Auto Products, Mr. Mustang and Corvette America.
I asked him about the future of the automotive aftermarket and what  it takes to make the next business powerhouse. He pointed out that it takes money and investing in these small companies to make them great and that is what RPUI strives to do.
Interview #3 : Mitch introduced me to Chandler Wheat, the Brand Manager of Mr Mustang and First Place Auto Products which are part of RPUI. Chandler just turned twenty and is excited about high performance automotive. This was also his very first SEMA. When he was 13 his dad brought home a 1971 Big Block Corvette and he was hooked. He started a landscaping company to fund his car obsession and started buying Corvettes.
Around age 18 his parents suggested he check out Mustangs and next thing you knew he was turning one into a autocross car. Chandler met Mitch at a car show and recognized the passion and hired him into RPUI.
This will be our last show of SEMA specific content but the information I learned there will continue through the year.This should lead to some great interviews in 2016!
-Rob Kibbe
=======================================================
This interview sponsored by our pals at National Parts Depot – your premier source for muscle car restoration parts!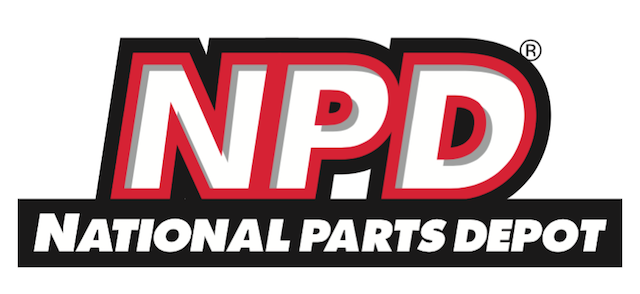 =====================================================
The Pro-Touring.com Update
with Larry Callahan!
In this months Pro-Touring.com update with Larry Callahan the show is still catching up from all of the SEMA caziness but we have some MotiV8tr news from the web. Check it out you corner cravers!
MotiV8r Update: Larry's dad finished machining some dash monts to hold the Racepak IQ3 Data logger display, the switch module for the Racepak Smartwire, the Pioneer NAV system and the Vintage Air vents. Next is to make brackets for the back and cut the carbon fiber inserts. Also installed the Design Engineering, Inc. Floor and Tunnel Shield II. This should really help keep the catalytic converter heat and exhaust heat out of the cabin. It's adhesive backed and pretty easy to form and install. Since the engine and trans is already in the car Larry could not utilize the adhesive everywhere so he added some stainless self drilling screws and stainless fender washers. This should hold up well to the autocross cones that will surely cram under the car once in a while.
We're proud to say that this segment is sponsored by the fantastic muscle car and hot rod wiring supply company, Ron Francis Wiring, and we're very appreciative that they are our show sponsor! Thanks, Ron Francis!
-Rob & Larry