Podcast: Play in new window | Download
Subscribe: Google Podcasts | RSS
=======================================================
This weeks interview is with Hot Rod staff contributor, and Roadkill famous YouTube personality, Mike Finnegan. Many of you are likely fans of Roadkill due to the hilarious real-life antics of David Freiburger and Mike, but what you may not know is that the entire show was somewhat of an accident and that it could have all disappeared just a few months ago!
Taking a step back, Mike grew up in Southern California and attended college in New York for an arts degree.Following college he returned to California and started working at magazines right after college. His first foray was with Trucking Magazine, and Mike sealed the job by arriving in a mini truck he had built and modified. The  figured if Mike could build them, they could teach him to write and take pictures.
From there he jumped around from magazine to magazine, including a hot rod boating rag. Finally though, the dream of having the magazine job occurred with David Freiburger hired him at Hot Rod Magazine. From there forward, life would never be different.
Mike shared that the humble beginnings of Roadkill had a lot to due with timing and luck. Just after starting at Hot Rod he and David Freiburger took a road trip together. Freiburger filmed it, they edited something together, and put it up on YouTube. People enjoyed it, and the decision was made to make it into a regular show. They named the show RoadKill and there was no going back!
Producing Roadkill is not a normal TV type affair. It is three to seven days of filming with no script, no knowing what is going to happen, and there is (according to Mike) rarely a plan. After the trip and after the filming there are still quite a few days of sorting through footage for the best bits and condensing it down to a half hour show. Roadkill is a labor of love that is now showing results (i.e. millions of views within a week of each show airing). I even witnessed the power of Roadkill on the latest Hot Rod Power Tour with many people – old and you – asking me where they could find Mike Finnegan to get his autograph!
As you'll learn during the show, Mike recently left Southern California to move his family to Georgia. The move was completely personal, and he knew was one that could potentially cost him his job. However, luckily the process of creating Roadkill at this point can be done remotely for most things, and a way was found to keep going that allowed everyone to win. Best of all, Mike was able to live where he wanted but still maintain the dream job of hosting Roadkill!
I did ask Mike about his favorite episodes, and while he has many favorite moments from many shows one of his top experiences is drivng the '68 Charger "General Mayhem" at the DirtFish Rally School in Oregon.  Since Mike and I are the same age and grew up in the era of The Dukes of Hazzard I can certainly understand why slinging a '68 or '69 Charger around in the dirt would be a dream come true! (Side note: it turns out we also share the same  almost stupidly obsessive desire to have one a '69 Charger. I'm glad to know I'm not alone.)
You can follow Mike on many social pages but he suggests the best place is Instagram as Finnegan999 but you can also find him on Facebook and Twitter. You can catch RoadKill on YouTube every fourth Friday
Thanks for the great interview Mike. Looking forward to the next Roadkill!
-Rob Kibbe
=======================================================
This interview sponsored by our pals at National Parts Depot – your premier source for muscle car restoration parts!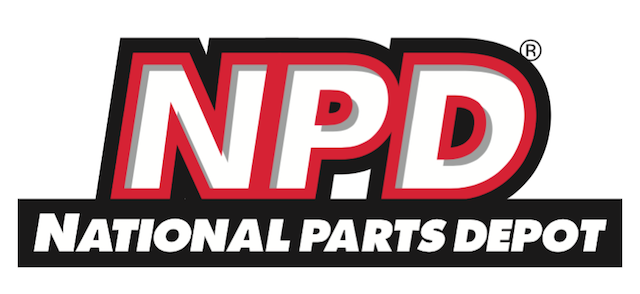 NPD Update with Matt Laszaic!
It is time once again the monthly "NPD Update" with Matt Laszaic, FORD Project Manager at National Parts Depot.
This time Matt fared very well in the movie trivia department and he aced all of the questions regarding a Schwarzenegger movie featuring a Mustang. Listen in and see if you can figure out what movie before he does.
Matt talked to me about the upcoming offerings at NPD and he is very excited to announce 1994 to 2004 Mustang line of parts to be released soon. 1994 introduced a big change in style and the great looks continued and improved through to 2004. Matt says he owns personally a 1994 Mustang Cobra and is looking to purchase a 2004 Cobra "Terminator" Mustang in the near future. Of course he will be getting his needed parts from NPD. He also noted that usually after ten years vehicle manufacturers start discontinuing parts and that NPD is right on time as the 2004 models are now over ten years old.
You can hear the excitement in Matt's voice about these cars and that is what makes this hobby great. Everyone has their favorite vehicle for very special reasons.
Thanks for the update, Matt!
=======================================================
Cool News from Vintage Air:
Gen IV Kits for 1970-81 Firebirds!
A big welcome to our newest show sponsor, Vintage Air!
Vintage Air is is finishing up their new Gen IV Sure Fit kits for the 70-81 Firebirds, and the factory a/c versions will be released in mid-August, followed by the non a/c kits in late September.
The kits will include a new bolt-in control panel with three slide knobs that mimics the factory look (similar to the Second Gen Camaro kit). They also feature hose routing through the kick panel and out through the factory blower motor hole behind the hood hinge for a clean firewall.
For more info check out VintageAir.com and be sure to tell them you heard the news on on the podcast!