Podcast: Play in new window | Download
Subscribe: Apple Podcasts | Google Podcasts | RSS
FEATURE INTERVIEWS:
SEMA SHOW SPECIAL 2023 – Episode #2:
Welcome to the Second of TWO special shows from our coverage of SEMA 2023! Producer Bernie McPartland and I hit the pavement in Las Vegas for 48 hours and captured a TON of great interviews. This episode is dedicated to the business insiders that make the things we like to use, enjoy, and RACE with!
The Pro-Touring segment is alive and well, and as competitive as it's ever been. We began our day at the Optima Ultimate Street Car Invitational and went from there so meet with all of the movers and shakers in the industry. I talked to those who were racing, those who wanted to be racing, and those who were putting on the race! Every guest is a success in their field, though all have an entirely different approach.
-Rob Kibbe
Ron Francis Wiring: Try as you may you could not find Scott Bowers in the Ron Francis Wiring booth in the SEMA Show halls. In fact you could not even find the booth anywhere this year. Larry Callahan and I DID however find Scott Bowers on the race track with a huge grin on his face putting laps down and talking to people about race quality wiring products. He was standing next to his race prepped Fox body Mustang SVO waiting for his next heat.
Scott said that it defiantly felt different to not be in the booth surrounded by employees to help field questions but it sure was more fun to be racing. He was showcasing Ron Francis products in his car build and he did get questions and inquiries between his times behind the wheel so in the end it was a very good decision for everyone. You can check out the amazing line up of wiring products at RonFrancis.com.
OPTIMA Ultimate Street Car Invitational: I caught up with Cam Douglass, Director of Marketing at OPTIMA Batteries, to ask him about the origins of the OSUSC series that culminates in the finale race at the time of the SEMA Show. In the beginning there was really no way to see how the SEMA show cars actually performed by simply viewing them in paper magazine articles. Cam came up with the race concept to showcase how the cars actually perform on the race track. It has developed into a great series with some very real race cars competing head to head for the title of Ultimate Street Car.
Cam said that, from a business standpoint, holding the event must return a positive impact to the ROI for the company. This is not always easy to quantify and he has to make sure they are getting results from their investment in the series. The problem is most people do not buy a battery until their old one is bad and in the case of OPTIMA that could be seven years later. This makes it hard to show that the racing is actually making results to the company. The race series keeps the OPTIMA in consumers minds and excited about the next time they will see the OPTIMA name. So if you like to watch the OSUSC series, make sure to keep them in mind for your next battery purchase and tell them it was because of the racing series. Check them out at Optimabatteries.com.
Edelbrock Group: Chris Douglas is the CEO Of Edelbrock, and a friend I met long ago while he was working his way up in Comp Cams. He has grown tremendously through the years and now is at the help of one of the biggest players in the indusry!
We started out conversation talking about something else he knows a lot about….go karts!I knew he had a history in the sport and I wanted to pick his brain about what he would have done differently.
Chris grew up longing to drive race cars and wanted to get into racing. His dad picked up a clapped out race kart and they started rebuilding it from the ground up. Chris's dad knew dirt racing so he had a functional knowledge of what had to be done on a race kart but he made Chris work for it instead of just handing it to him. They made the old kart competitive and he started working his way up and winning races. He even got into the business side of it rebuilding engines and parts for other racers and making a little money on the side.
Later he raced in other classes but would still go back to karts from time to time to "make some easy money." In his opinion, staying in karts too long was detrimental to his success and goals of moving up into professional racing (ex. NASCAR). When he came to work at Comp Cams he thought it was just temporary and he would be back to racing soon enough. Little did he know that there was a different plan for him and he moved up through the ranks at Edelbrock group to become the CEO of the whole organization. His competitive nature is still in full force, but now sow in the business place of speed parts! If you would like to find out more you can check out the website Edelbrockgroup.com.
JEGS: Wayne Perdue, Marketplace Manager for JEGS, loved cars even at a young age and bought parts for them at JEGS. He decided to get his dream job there thirty five years ago and has loved it ever since. He supports the internal JEGS race team by Coughlin Automotive Group and makes sure they get what they need. He said that they plan on attending more shows like SEMA in the future to promote JEGS as a way to get all of your muscle car parts. I asked him about the future of trucks and he said they have been growing in the truck market and it is getting hot. If you would like to know more check out the website at JEGS.com.
Vintage Air: Rick Love is one of my favorite interviews every year and as always they bring a lot of innovation and updates to the show. This year was no exception and fittingly enough they have added products for the Fox body Mustangs. Rick even pointed out that they would go well in a Pro-Touring race car too!
Vintage Air introduced the Gen 5 platform last year at SEMA and won a SEMA new product award for the system. It is a definite evolution and they have been converting all of their packages to the newer platform. Wherever they can they put in the larger blower for better air flow and more cooling. It is important to have great heating and cooling in your vintage ride as more and more people are using their 80's and 90's era cars as daily drivers. A great updated air system makes a lot of difference in comfort in those older vehicles.
With the advent of the Low Volume Manufacturing act, Rick said that they are working with many of the small volume builders to put quality air systems in those new vehicle. He pointed out that they can leverage the volume buys and get the prices down and save money on the bottom line while installing a quality, reliable air system for the customers.
Check them out at VintageAir.com.
======================================================
This interview sponsored by our pals at National Parts Depot – your premier source for muscle car restoration parts!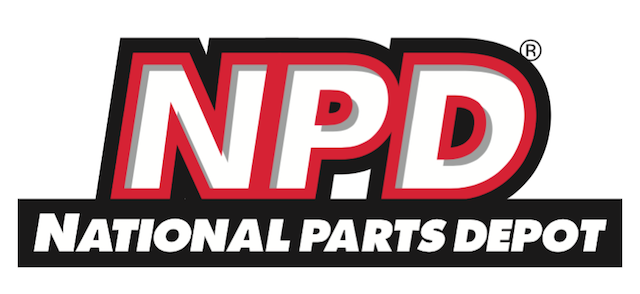 ======================================================
P.S. It is hard to believe it has been ten years since I brought my Chevelle to SEMA after a long build that introduced me to so many great people. It was the amazing capstone achievement event to the whole experience. Check out Jeff Allison and myself at the show in 2013.