Podcast: Play in new window | Download
Subscribe: Apple Podcasts | Google Podcasts | RSS
FEATURE INTERVIEW:
NHRA Top Fuel Superstar Clay Millican!
This week we sent our award-winning newsman and show producer Bernie McPartland out to the Texas NHRA Fall Nationals at the Texas Motorplex. His assignment: to catch up with drag racer extraordinaire Clay Millican and watch him "stomp the loud pedal!"
Clay has been a longtime listener of our network and a serious friend to the shows. While he had plenty on his plate to accomplish regarding racing he was gracious to meet with Bernie for a wonderful trackside interview. Much has happened for Clay since his last appearance on the show, both personally and professionally. As always, Clay gave the inside scoop and honest answers we all wanted to hear most about what it takes to be a pro racer!
One of the big life changes for Clay is that the team has a new owner in Rick Ware Racing. After many years of ownership, Doug Stringer sold the team to Rick Ware which seems to be a great fit, as he is a racer through and through. Doug will still be around but this lets him focus on family and spend more time with loved ones. Rick Ware owns multiple different types of  racing teams (including NASCAR, World Supercross, IMSA, and Indycar) and loves things that go fast! Accordingly, Clay's team has moved to join the other teams in Mooresville, North Carolina and are now in the "horsepower capital of the country." They now have more direct access to many go fast services and products to help him go even faster.
When it comes to the business of being in professional motorsports Clay was honest in sharing that motorsports in general is a tough model. In the NHRA it all comes down to sponsorship and prize money! In today's environment however, it's Clay shared that it's not necessarily just having a logo on a car that ends up seen during TV coverage of a race. Clay talked about the advertisers on his car and said that you must find what helps your advertisers first or it is not a right fit. They must see some benefit from the relationship! This is how he has kept advertisers like Parts Plus for over a decade by giving them a value for their sponsorships.
At home Clay has multiple go fast projects such as his wife's "yard truck". She mentioned to him at one point that she would like a truck for doing yard work and running to the lumber yard or gardening supply house. She then followed it up with an ad to a $700 Dakota that needed engine work and project "Baby D" was unknowingly started. Like any great project it started with good intentions but Clay just could not bring himself to rebuild a V6 for anything. This truck had to have V8 power so it got a 5.7 Hemi coupled with a Super Sport transmission and a Moser rear end just to make sure it could leave a little rubber when leaving the home improvement stores. He even added line locks and instructed his wife in the ways of a proper burnout with maybe some practice along the way.
Another home project that Clay is working on with his friend Jeff Lutz from Comp Cams is "Dentley," his 2004 Dodge Ram 1500 truck. This RAM was previously owned by his son Dalton before he passed away in a motorcycle accident. It's an important truck for him to see proceed forward!
The truck project is a continuation of plans Clay and Dalton had together but doubled down on by friends and family as a tribute. Jeff Lutz has added a ton of Comp Cams go fast products as well as an impressive drag racing roll cage.  (By the way, the name "Dentley" came from all of the dents that were put in by a teenage boy driving a V8 pickup.)
Clay plans to get the truck to a finished like state before November so it can be hauled out to SEMA and be displayed in the AAPEX trade show. Check out his update on getting the truck ready for the show on YouTube.
You can follow Clay just about anywhere on the internet. His YouTube channel has great behind the scenes content at YouTube Clay Millican and you can find pictures and short clips at Instagram.com/claymillican. He is also on Twitter.com/claymillican for the latest go fast updates directly to you.
Thanks Clay. See you at SEMA!
-Rob Kibbe
======================================
This interview sponsored by our pals at National Parts Depot – your premier source for muscle car restoration parts!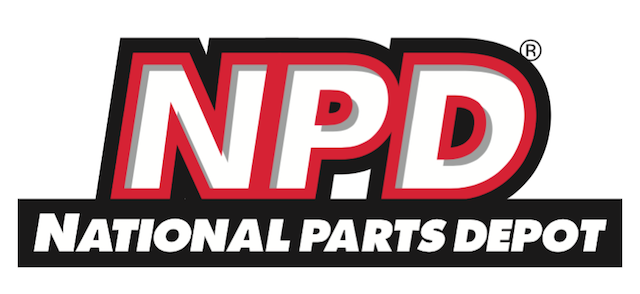 ======================================================