Podcast: Play in new window | Download
Subscribe: Apple Podcasts | Google Podcasts | Stitcher | RSS
FEATURE INTERVIEWS:
SEMA SHOW SPECIAL 2021 – Episode #3:
The SEMA Show is back for 2021 and I decided to send two guests hosts out to Vegas for a week to get interviews. They came back with so much content that I had to release a bonus Thanksgiving episode just to get it all in! This decision has resulted in some interesting and diverse guests quizzed by these two "wanna be" podcast stars. As a reset, this will be the third of several podcasts we will release through December featuring great interviews from SEMA. Our two interviewers were Kirk Hansen and Scott Stap. You know Kirk Hansen as a long time show friend and supporter, as well as Scott Stap show writer from previous shows. These two hit the booths at SEMA and met up with old friends of the show as well as some great new companies to talk to. Armed with a mic and a camera they brought back content just for you from the wilds of Las Vegas! 
Eli DeWitt,1967 Pontiac LeMans, SEMA Young Guns: SEMA Battle of the Builders continues the tradition of encouraging young, upcoming builders with the return of the Young Guns division. The Young Guns division makes it possible for builders 27 years of age or younger to compete alongside industry veterans in the SEMA Battle of the Builders—a competition that recognizes and celebrates the accomplishments of SEMA Show vehicle builders. We met up with Eli DeWitt, one of the competitors of SEMA'a Young Guns. Eli built an astonishing 1967 Pontiac LeMans. The story of how he found this car is unique and felt the car was destined for Eli to save. Eli is planning to open his own custom shop in the near future and his 67 LeMans is a spectacular show-case piece to display his skills. If Eli's attention to business is as thorough as his attention to detail then he is set for success!
Riley & Courtney Casey, YouTube Ambition Strikes:
We found YouTube channel
Ambition Strikes
creators Riley & Courtney Casey outside of SEMA's West Hall. If you don't know their story it's filled with accepting challenges and being ambitious! They met in college and shared a passion of being outdoors. Early in their relationship they decided to open a off road shop. Building modified Jeeps, trucks, and off road rigs, built confidence in their skills and ability. During this time Riley & Courtney also remodeled and flipped a few homes. Between the off road shop and flipped homes created a comfort that they simply weren't ready to settle for. They decided to get a camper and see this beautiful country that also doubled as their honeymoon trip. Between the trip and COVID hitting the world, they knew it was time to make a jump! Off grid camping was the target and documenting the overland vehicle build via YouTube was the next challenge. Courtney described it well when she said, "If you asked us what we wanted to do for a living, neither of us would have ever said "be a content creator. It really was a happy accident that began with our truck camper build." We started by making short videos so that friends and family could follow along. Before we knew it we had created a tribe of thousands of like minded people who are so incredibly supportive." Ambition Strikes has nearly 125K subscribers and their time lapse video of their overland build has over 5 million views. YouTube has proven to be a successful adventure for the duo. Enjoy this interview and I encourage you to visit their channel at
YouTube.com/AmbitionStrikes
for more inspiration!
Dave Fortuna, Classic Auto Reproductions, 1978 Mustang II: The Mustang II is not your typical SEMA slated car. In a sea of New Broncos and insane 69 Camaros, Dave Fortuna's 1978 Mustang II demanded our attention. The Mustang II was the forgotten model, most of them were robbed of the desired front suspension and sent to scrap. Dave however is a fan of this forgotten Mustang classic. He restored another Mustang II in the early 2000s and found himself stuck locating parts. It then inspired Dave to begin a parts company focused only on 74-78 Mustangs called Classic Auto Reproductions. This Grabber Blue Mustang was a SEMA car in the past but was destroyed when the Transporter was in a roll over. Dave was able to save this car from being a total loss. From custom fender flares, tail light panel, hood, spoiler there isn't a square inch of this car not been massaged and modified. Dave with the help of Revolution Speed Shop pulled off a remarkable Mustang II that any true die hard Mustang fan can appreciate!
RedCat Racing RC Cars:
What is better than having a muscle car that you love? Having a mini clone to drive around too!
RedCat Racing RC cars
provide an affordable alternative to the higher priced mainstream version but with the same quality and part availability. They also have a wide selection of very customizable cars, trucks, rock crawlers, and even lowriders with real hydraulic action. I got to see them in action in the Center Hall at SEMA and just had to have a closer look. They told me that all of the parts are available to repair any breakage, upgrade to faster or more robust pieces, and even pieces to mold it into a clone of your classic ride. They are very proud that they come in at an affordable price point and made sure to tell me about the Black Friday sale where you can get them even cheaper. Check it out at
RedCatRacing.com
.
Vance Kershner, HellRunner, 1973 Roadrunner:
Sometimes you walk around SEMA and find cool stuff. Sometimes you are directed by multiple people to go see something at SEMA and this is one of those cars. A 1973 Roadrunner, titled the "HellRunner". In April 2019 Mopar started taking Pre-Orders for a 1000 horsepower "Hellephant" engine. Vance Kershner was one of those lucky people to get his hands on one and knew it had to go into a special car. Vance has owned a Roadrunner since he was in school and just had to have another to put this into. Unfortunately the old steel unibody was not up to the task so he installed a special subframe into the car to handle every one of those horses. He did not stop there though, he transplanted the interior out of a new car right down to the Hellcat puddle splash lights. He had
Jems Classics
top it off with an amazing paint job and it became one of the must see cars of SEMA 2021. 
John Wargo, The Custom Shop, CaSSaNova:
Ever heard of Flanagan IL? Probably not as it only has a population of just over 1K. Not your typical location for a successful custom build shop. However John Wargo, a fan of small-town living, has applied a full effort to pull it off. In the beginning John worked at his shop during the day and worked a night shift job to get the shop off the ground. The shop is called "
The Custom Shop
" and John's hard work has paid off. Speaking of hard work it's evident in the 67 Nova he brought to SEMA! This car is given the name CaSSaNova. With carbon fiber panels, headlights from a streetbike, custom airbrush work, a Procharger with stacks exiting the hood, there is so much to discuss about this wild and intense car. At a young age John started customizing mini trucks and sport bikes, which was his introduction to building his airbrush skills. As wild as the exterior is, the interior was just as custom. John has a long lasting relationship with Sony building many of their show cars. So the sound system for Cassanova had all of Sony's best offerings. John's imagination is wild and it's evident in this Nova. John also had a new Corvette parked alongside the Nova that was a rush for SEMA build. Both cars are amazing but hearing John's success story from small town boy to elite builder is what we enjoyed even more!
Bart Bugsby, 1968 Camaro, God, Guys, and Gears:
As we walked in the Main Hall of SEMA I was first drawn into checking out a killer 1968 Camaro, then noticed the booth was titled "
God, Guys, & Gears
" okay I thought I need to know more! I first met Tommy Smith and heard of the amazing story of how Tommy and Bart Bugsby are using young men (highschool age) to build classic/custom cars and trucks. Tommy and Bart are investing in these young men by allowing them to have the outlet to gain skills and the tools to accomplish this task. By investing in them also allows them to guide the men to faith as well. We interviewed Bart and he best said "Our mission is to introduce our youth to hotrods, horsepower, and the Word of GOD. The builds are simply a tool to demonstrate the close ties between work ethic, quality craftsmanship, and a skilled craftsman's desire for perfection. Our guys
and girls
discover these successful traits in the written Word of GOD. They find the clear relationship between hard work, thoughtful hands, and the pursuit of perfection defined in the Word. These qualities bring abundant success both spiritually and in their life's work. Based on the principle, quality tools and quality materials do not produce a quality product. The skilled tradesman with a desire for perfection is the final ingredient". Bart and Tommy show great passion for our hobby but an even deeper passion to pass it along to our youth. Here is a prime example of Iron sharpens Iron! Check them out on
Facebook
or on
YouTube 
Thanks SEMA for putting up with these two in 2021!
-Rob Kibbe
========================================
Kibbe's New Invention: The Magic Tee
And now for something completely different. Rob and his buddies spent the last ten years creating, designing, testing, investing, patenting, and everything else it takes to bring a new product to market. It's called The Magic Tee….and it's for baseball and softball training. Seriously. It has nothing to do with cars at all….but the process of bringing a product (and business) to market is something we all need to know about. The full story is in this episode….and by all means, visit www.magictee.io and buy one for everyone you know!
========================================
This interview sponsored by our pals at National Parts Depot – your premier source for muscle car restoration parts!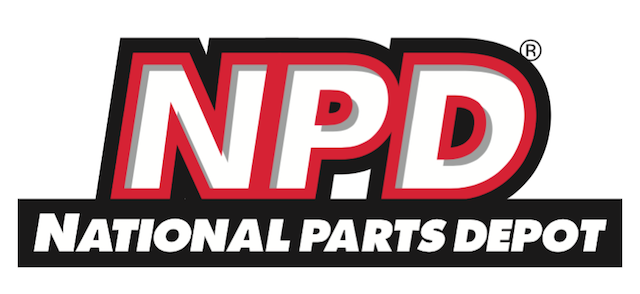 ======================================================
Presented with Ron Francis Wiring!
We're proud to say that the Pro-Touring segment is sponsored by the fantastic muscle car and hot rod wiring supply company, Ron Francis Wiring! Contact them today for their latest catalog and be sure the review their new website for all of your wiring and electrical needs!