Podcast: Play in new window | Download
Subscribe: Apple Podcasts | Google Podcasts | Stitcher | RSS
FEATURE INTERVIEWS:
Rick Schmidt:
Buying Classic Cars, Off The Beaten Path
It's the first show of April, and once again time for our monthly Ask Rick segment with Rick Schmidt! This time I wanted to know more about the unusual and rare vehicles in his collection. On our family trip to Florida we had a chance to stop in at NPD and were shown around the incredible collection that Rick and his father have amassed over the years. The "personal luxury car" segment of giant Buicks, Olds, Lincolns, and Fords is second to none….but the 1987 Firebird that really caught my eye was produced by a huge company in the 1980's that is nothing but a memory today!
On the tour, Dallas and I were amazed at the sheer size of the collection and the variety of the models housed there. Unlike many personal collections that contain nothing but "cliche" collector cars, the Schmidt's have sought out the shining examples of "forgotten" high end personal luxury cars, rare optioned cars, and one-off sample cars. Some of the vehicles looked like your normal production models until you start to look closer.
One such example was the 1987 Pontiac Firebird Suntour. This was a concept car that General Motors had made by a Michigan company called American Sunroof Corporation, or later known as ASC. On first glance it looks like just another Trans-Am, but Rick pointed out there are many changes that make this car unique. ASC took a base model Firebird and created one-off ground effects similar to a GTA but years before that model existed. That is not where the body modifications stopped though!
Look closely and you will see a door to door, front to back window in the roof. Some have speculated that the whole A pillar and roofline were replaced to accomplish this feat and it definitely makes for a open feel when inside the car. Interestingly enough, there was a time when ASC was the go-to company in Michigan to produce convertible and rare vehicles for the Big 3…but today the company is completely gone. 
We had a great time visiting with Rick and seeing the many wonders like the 1971 Boat Tail Riviera, the 1966 Oldsmobile Toronado, and Dallas's favorite, the 1981 DeLorean. It was fun to see the cars that we had talked about on the show and just catch up with Rick in person. 
You can find out more about NPD at the website National Parts Depot, or on social media  Twitter.com/npdlink. 
Thanks Rick!
-Rob Kibbe
P.S. Check out the photos from our "Family Vacation" to NPD after the break.
======================================================
This interview sponsored by our pals at National Parts Depot – your premier source for muscle car restoration parts!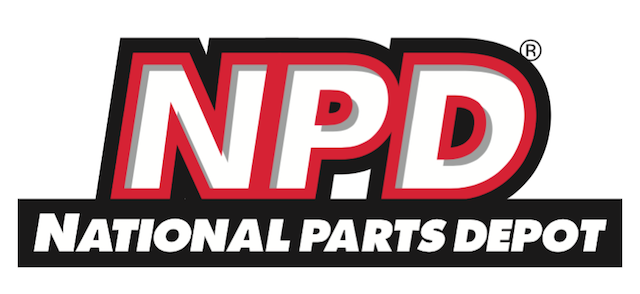 ======================================================
April Fool's…From Holley!
If you missed it, Holley put out a brand new NOS product line yesterday…..on April 1! Since we all love a good joke…and since we all wish a 20-stage 3500 Horsepower shot of NOS actually existed, enjoy!  
======================================================
The Kibbe Family Vacation To NPD!