Podcast: Play in new window | Download
Subscribe: Apple Podcasts | Google Podcasts | RSS
FEATURE INTERVIEWS:
Rick Schmidt:
Speculating on Modern Muscle Car Collectibility
It's the first show of month, and therefore time for our monthly Ask Rick segment with Rick Schmidt! I wanted to know his thoughts on the latest NASCAR happenings, the end of factory muscle cars, and of course his thumbs up or down on a selection of internet cars.  Specifically, with the gasoline powered engines of today (seemingly) about to come to an end, I wanted to know which model he might buy as well as how he would trick it out. In Rick's words, "I like muscle cars that are optioned out like a Lincoln!"
End of Muscle: We certainly seem to be in the swan song of the amazing high horsepower and high tech offerings from the Big 3 in Detroit. Caddys, Camaros, Mustangs, Challengers; etc. have all never been more impressive. The new Ford Raptor and Dodge TRX trucks are showing big muscle horsepower numbers at equally big price tags. When I asked Rick if he would entertain either, he said he had an older Ford Lightning in the collection and thought it would be a better, faster truck in the end as it is lighter and more nimble than the newer heavier platform. The latest batch of high horsepower muscle cars is amazing in both power output and fuel efficiency but with the latest push to electric cars, they may be the last of the great gas cars. Rick said his favorites were the cars that resembled classic muscle like the Mustang and the Challenger. Listen in to hear what he might buy!
NASCAR: Recently a new sitcom has debuted on Netflix about a NASCAR race team, called "The Crew". Rick thought the show was an effort by NASCAR to gain more race day viewers by offering them flash and funny but still has no content worth watching at an event. Back in the heyday the cars were actual production cars with huge differences and actual engines that you can buy at a dealership. Today's NASCAR vehicles are so contrived and regulated that any identity to a real car has been lost decades ago. The whole "win on race day, sell on Monday" mantra would no longer be the case since you cannot buy any part of them. Rick would like to see some real cars and real racing be injected back into the sport and actually test the limits of "stock car racing" with some stock cars.
You can find out more about NPD at the website National Parts Depot, or on social media  Twitter.com/npdlink. 
Thanks Rick!
-Rob Kibbe
======================================================
This interview sponsored by our pals at National Parts Depot – your premier source for muscle car restoration parts!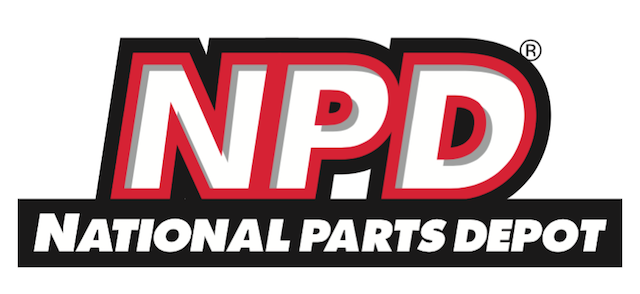 ======================================================
Presented with Holley!
Do you have a Jeep – old or new? Holley has a complete line of GM Gen-V LT engine swap products specifically designed for the 1987-1995 Jeep Wrangler YJ. These parts work together for a trouble free installation with ideal drive-train geometry & component clearances. If you'd like to read up on an "off the path" install of a 5.3L LT engine into a killer Jeep CJ-7, click here to read more on Holley's Motor Life. It's fantastic!
======================================================