Podcast: Play in new window | Download
Subscribe: Apple Podcasts | Google Podcasts | Stitcher | RSS
FEATURE INTERVIEWS:
Bill Rhine:
Rhine Built NASCAR Restorations and an Inside Look at Racing
This week I had the great privilege to talk with Bill Rhine, owner and founder of Rhine Enterprises. If you LOVE watching vintage stock cars, love the history of NASCAR, and LOVE the idea of restoring and racing vintage stock cars….this is the episode you've been waiting for. Bill has NASCAR racing in his blood and may love the sport more than he entire France family combined!
Bill broke the mold right out of the gate on this interview and revealed that neither parent was into racing or cars for that matter. He would watch races on TV and dream of the day he could be there himself. During high school, he left home and moved in with a friend just so he could pursue his passion of working for a race team, any race team he could get into. After high school he moved to Georgia and then to the racing mecca of North Carolina.  He entered the racing business at the very best time as the race teams were still small enough that he was able to do and learn everything! 
Racing in the 90's was still "wicked NASCAR" and Bill fit right in. He worked for racers like Ricky Craven and Adam Petty, and learned a lot from both of them. The pace was fast and intense with very little time to do anything but work on race cars. He said he went two years working for Craven and only had a handful of days off, working seven days a week the whole time. In 2000 Bill was talking to his friend and former employer Adam Petty and he was asked to come back and work for the team. Bill was working for a Dodge team at the time and told Adam that they would talk about the move after the weekend. Adam died that weekend and Bill took that as an indicator it was time to change careers. Not long after that he started working in his garage doing what he knows best, fabricating old race cars.
Bill's experience prepared him perfectly to do everything with race cars and fabrication. This makes him specially suited to restore or clone race cars from the 70's, 80's and 90's. He said that the shop is open to more than just race cars, to pay the bills, but him and his crew are passionate about classic speed. Race cars are all one off creations and it is impossible to be totally sure a particular restoration is done to perfection. Bill worked in the industry and researches more than anyone and even he is not sure sometimes. He came up with a creative solution and asks the original builders to come in and verify that each car is correct. If the original builder cannot tell the difference between the original racer and the restoration, it must be right.
If you love getting the inside scoop and hearing opinions of people who have been there, this was the episode for you! Bill was amazing and very insightful with thought provoking answers to racing and some of the worlds bigger problems. If you would like to know more about Rhine Built, you can check out their page at RhineBuilt.com. Of course you can also find the latest happenings at Facebook.com/RhineEnterprise. Other places you can follow are Instagram.com/rhinebuilt and Twitter.com/rhinebuilt.
Thank you for an amazing interview Bill!
-Rob Kibbe
======================================================
This interview sponsored by our pals at National Parts Depot – your premier source for muscle car restoration parts!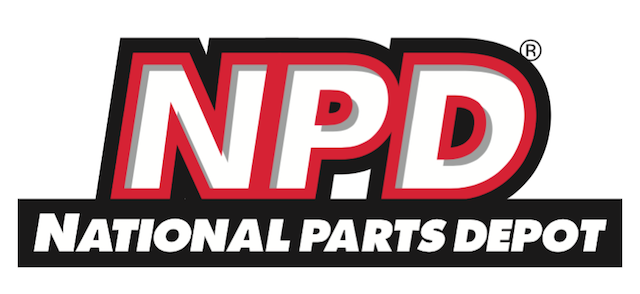 ======================================================
Presented with Holley!
Holley has TWO MASSIVE contests running right now – and you can enter to win! Prize #1 is a 427ci built-to-the-hilt small block Ford. Prize #2 is David Freiburger's very own '66 Buick convertible – the car that started Roadkill! Links are below to enter. Be sure to tell Holley we sent you!